Zoo Boo Details
Celebrate fall festivities at the Zoo during Zoo Boo presented by King & Spalding. Costumes are encouraged, and guests will have plenty of favorites to experience, including visiting our Carved Pumpkins sponsored by Frost Bank, Giant Pumpkin, and inflatable pumpkins. Don't miss our Pumpkin Lantern Tunnel between the lions and tiger exhibits, our spooktacular Scary-Go-Round, photo ops all over the Zoo, and much more!
Zoo Boo Dates: September 29-October 31
9:00 a.m. to 5:00 p.m., last entry at 4:00 p.m.
Note: On Oct. 21 the Zoo will be closing early at 3:00 p.m., with last entry at 2:00 p.m. for a private event.
This event is included with general admission and is FREE for members.
HIGHLIGHTS INCLUDE:
NEW Jack-o'-lantern Tree sponsored by Proud Source Water
NEW Animal-themed Peek-a-Boo Pumpkins and Happy Harvest photo op sponsored by Texas Children's Hospital
Pumpkin Arch photo op at Reflection Pool
Daily fall-themed enrichment for our animals (View our Daily Schedule)
And so much more!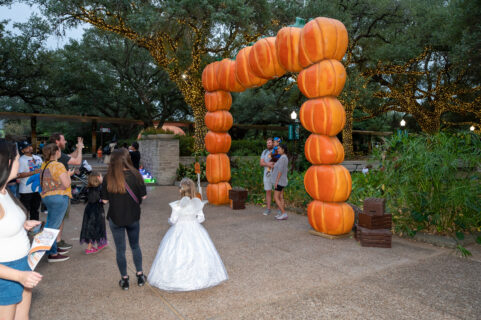 Zoo Boo After Hours
Every Friday during Zoo Boo, we're extending our hours until 8:30 p.m. to give guests the opportunity to experience Zoo Boo after hours. As the sun goes down, Zoo Boo begins to glow. This event is included with general admission and is FREE for members. Last entry at 7:00 p.m.
Note: Due to Hermann Park events on Friday evenings, we may experience increased traffic. To help you avoid increased traffic, allow for extra time and check out our recommended parking options.
Upcoming dates: 
September 29
October 6
October 13
October 20
October 27
HIGHLIGHTS INCLUDE:
NEW Graffiti wall photo op
NEW Spooky Forest
Spooky Dance Party at John P. McGovern Children's Zoo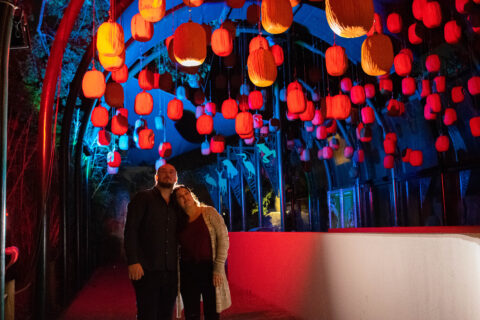 ZOO BOO FAQ
Can we come dressed in costume?
Zoo Boo is a family-friendly event, and all costumes must be appropriate for ghouls of all ages. Adults are welcome to come in costume, but must be family-friendly. Adult must have their entire face visible. Provocative, revealing, or offensive clothing is prohibited. No heavy makeup or face paint for adults.
The Houston Zoo reserves the right to deny entry in the event of an inappropriate costume.
What items are prohibited at Zoo Boo?
Restricted items include but are not limited to:
Costume/toy weapons of any kind (swords, knives, galactic blasters, etc.)
Fireworks of any kind
Excessively gory or non-family friendly props or items
Inflatable objects or costumes
Heavy makeup or face paint for adults (Including masks covering the entire face. Adults must have their entire face visible.)
The Houston Zoo is unable to store items for guests during their visit.
Can I store personal items at the Zoo while I visit?
The Houston Zoo cannot hold any items for guests at the Guest Relations Office. Please leave all unsecured or restricted items in your personal vehicle or at home.
As a Zoo member, can I purchase additional discounted tickets not covered by my membership?
Yes, members receive discounted admission for extra guests not covered by their membership. Prices for these discounted tickets will adjust along with Flex Pricing when members log in to the Member Portal.