Event Details
The Pantanal: Spotlight on Species (SOS) event will highlight animals from our newest exhibit opening next summer, South America's Pantanal. We will offer a variety of Meet the Keeper Talks, presented by Phillips 66, and enrichment activities throughout the day for guests to learn more about our animals native to this lush wetland environment and to see them up close.
Member Morning presented by PNC Bank
Members will have access to the Zoo one hour (8:00 a.m.) before we open to the public for two special keeper talks.
This event is included in general Zoo admission and is free for members.

Not a member? Join today to receive early access to the Zoo.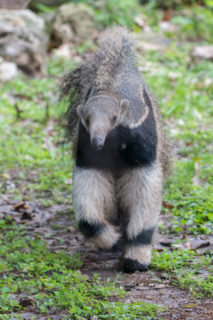 Note: There will be a Run in the Park event from 8:00 to 11:00 a.m. at Hermann Park the morning of October 5. We encourage guests to come early to the Zoo to avoid parking issues.
Event Schedule
Member Morning
8:30 a.m. – Jaguar Jump (Exhibit across from Black Bears)
8:45 a.m. – Giant Anteater Enrichment Chat
Pantanal SOS
9:00-11:00 a.m. – Ambassador Animals (South America Yard)
9:30 a.m. – Red-capped cardinal and Sunbittern Chat (Tropical Bird House)
10:00 a.m. – Baird's Tapir Food Toss and Chat
10:30 a.m. – Brazilian Tarantula Chat (Bug House)
10:30 a.m. – Green Anaconda Feeding (Reptile and Amphibian House)
11:00 a.m. – Baird's Tapir Enrichment Chat
11:30 a.m. – Jaguar Chat (exhibit next to Cougar)
12:00 p.m. – Primate Chat (Wortham World of Primates)
12:30 p.m. – Baird's Tapir Food Toss and Chat
1:00 p.m. – Otter Chat (Natural Encounters)
1:30 p.m. – Green Oropendola/Giant Wood Rail Chat (Bird Gardens)
2:00 p.m. – Caiman Lizard Feeding and Chat (Reptile and Amphibian House)
2:00 p.m. – Giant Anteater Bath and Chat
2:30 p.m. Crested Screamer (Pheasant Run)