Event Details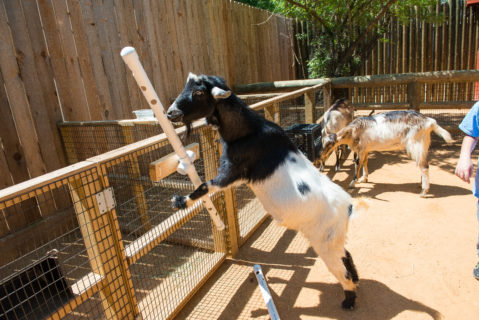 Enrichment Day is a great opportunity to see all the animals enjoying special animal enrichment, Meet the Keeper Talks presented by Phillips 66, fun games for kids, and more! You'll see a variety of animal enrichment activities throughout the day and learn more about what our zookeepers do behind the scenes every day of the year to keep our animals physically and mentally stimulated.
Enrichment Day 
September 21
10:00 a.m. – 3:00 p.m.
Visit the Reflection Pool and check out Enrichment Central to learn all about enrichment and how it is used every day to help enrich the lives of the animals at the Houston Zoo.
Enrichment Day Schedule
Carruth Natural Encounters
10:00 a.m. – Drylands

10:15 a.m. – Inside Rainforest
10:30 a.m. – Kinkajou
10:45 a.m. – Ambassador Animal Meet and Greet
11:00 a.m. – River's Edge
11:30 a.m. – Meerkat
11:30 a.m. – Piranha Feeding
Hoofed Stock
10:00 a.m. – Galapagos Tortoise

10:30 a.m. – Ankole Cattle
10:45 a.m. – Tapir/Capybara/Giant Anteater
11:00 a.m. – Tapir/Capybara/Giant Anteater
11:15 a.m. – Bongo
11:30 a.m. – Okapi
Birds
11:00 a.m. – Flamingo
11:15 a.m. – Whooping Crane
11:30 a.m. – Southern Bald Ibis
1:00 p.m. – Tropical Bird House – Rainforest
1:15 p.m. – Great Blue Turaco
1:45 p.m. – St. Vincent's Amazon
Reptiles, Sea Lions & Elephants
10:15 a.m. – Reptile and Amphibian House

11:00 a.m. – Sea Lion
1:30 p.m. – Sea Lion
1:30 p.m. – Elephant
Bobcat, River Otter, Banded Mongoose & More
12:30 p.m. – Bobcat

12:45 p.m. – River Otter
1:00 p.m. – Banded Mongoose
1:15 p.m. – Farm Yard
1:30 p.m. – Petting Zoo
1:45 p.m. – Swap Shop
Primates
12:00 p.m. – Ring-tailed Lemur

12:15 p.m. – Orangutan
12:30 p.m. – Siamang
12:45 p.m. – Gibbons
1:00 p.m. – DeBrazza's Monkey
1:15 p.m. – Swamp Monkey/Red-tailed Guenon
1:30 p.m. – Patas
2:00 p.m. – Sifaka
2:30 p.m. – Tamarin
Komodo Dragon, Black Bear & Cougar
11:00 a.m. – Komodo Dragon
2:00 p.m. – Black Bear
2:30 p.m. – Cougar