Event Highlights
Did you know that the elephants at the Houston Zoo eat about 1,000 pounds of food a day? Learn all about what they eat and more at our Elephant Open House event! Thai, Methai, Shanti, Tess, Tucker, Tupelo, Baylor, Duncan, Joy, and baby Tilly invite you to get an exclusive look at their large home.
This event is sold out.
At this event, you will immerse yourself into the daily lives of our elephant Zookeepers and the magnificent animals they care for.
The elephant barn will be open exclusively for Open House attendees to explore, and each stall will feature different aspects of the elephants' daily lives, like diets, care, training and more!
Event Schedule
8:00 – 10:00 a.m. – Refreshments
8:30 – 10:15 a.m. – Elephant Barn is open
8:15 – 8:30 Training Demonstration
9:00 a.m. – Elephant Bath at Bull Barn
9:30 a.m. – Elephant Weigh-in (guess the weight)
9:40 a.m. – Painting Raffle Winner announced
9:45 a.m. – Photos with an Elephant ($30/photo up to 6 people)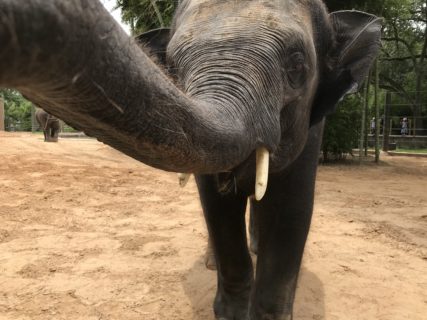 Frequently Asked Questions
Where do I park?
Please park in our main parking lot, off Hermann Park Drive.
Where do I enter?
Please enter through our main Zoo entrance. From there, it's a short walk to the elephant barn.
Do you need to print your ticket to enter?
Please present the PDF on your mobile device to have your tickets scanned for entry. By going paperless, you are helping save local animals, like black bears, in the wild!
Will there be food?
We will provide refreshments onsite. The Houston Zoo is making strides to reduce plastics, including bottled water, to help save animals like sea turtles in the wild. Please bring your reusable water bottle with you to this event.
Is there a dress code?
This is a casual event, so please dress comfortably.
What happens if it rains?
This event is rain or shine. There are no refunds. All proceeds raised go to elephant conservation!
Can I visit the rest of the Zoo after the event ends?
Yes! The Zoo opens at 9:00 a.m. and closes at 7:00 p.m.
Who do I call with questions?
For questions regarding the event, please call (713) 533-6500.