Event Details
Your favorite 21+ fall event is back. Enjoy beer tastings from several popular breweries, with MORE gluten-free options like hard seltzers, canned cocktails, and cider. This event is perfect for a date night or a friends' night out. 
NEW THIS YEAR:
Get access to our newest exhibit, Galápagos Islands, and explore this mainly indoors space without the kids.
Gather your crew for giant beer pong on our main lawn at Reflection Pool.
Show off your golf skills and play a round of LED mini golf.
Pose for a sketch with one of our digital caricature artists.
Additional activities:
Experience Dialect, a live jazz band, near the Reflection Pool and Hamilton Loomis, a blues band, at Masihara Pavilion.
Enjoy the Zoo after hours! Chat with our keepers across the Zoo, visit indoor spots like the Reptile House and Natural Encounters Building, and more!

Take a photo in our photo booth.

All games and activities are FREE with admission.
By attending Brew at the Zoo, you are helping save animals in the wild.
Event Tickets
Tickets for Brew at the Zoo are sold out!
Beer Pass
Includes an event pass, an 8 oz. commemorative souvenir cup, and six 4 oz. beer samplings from any of the breweries. Additional sample cards and full pours will be available for purchase on-site with a credit card only. Select breweries will have beer, canned cocktails, hard seltzers, and cider available for tasting.
Event Pass Only
Designated driver, or just not a fan of beer? We still want you to join the fun! This ticket does not come with beer samples or a souvenir mug but does allow you full access to live music, evening animal viewings, and more!
Adults 21+ only. No one under 21 will be permitted to attend the event. Last entry at 8:00 p.m. Last call at 9:30 p.m.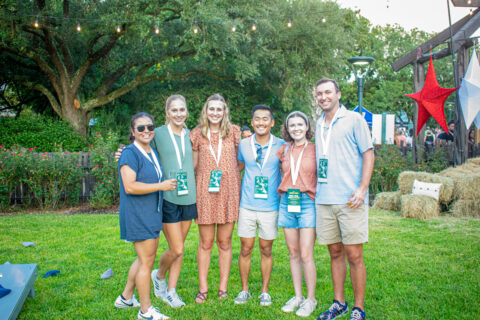 FREQUENTLY ASKED QUESTIONS
Is this only open to guests 21 and up?
Yes, Brew at the Zoo is an adults-only event for guests 21 and up. No babies or children are allowed. Guests without a valid photo ID will not be permitted to enter.
What breweries will be participating?
Saint Arnold Brewing Company
Karbach Brewing Company
SpindleTap Brewery
No Label Brewing Company
8th Wonder Brewery
Eureka Heights Brewery
Tupps Brewery
Galveston Island Brewing
2Hoots Hard Iced Tea
NÜTRL USA
Cutwater Spirits
Watertight Cocktails
Is the event only limited to beer?
No, additional food and beverages will be available for purchase. Other beverages include canned wines and hard seltzers at the concession locations, plus several breweries are bringing canned cocktails, hard seltzers, and cider as alternative options to beer.
If you purchase the Beer Pass, tastings can also be used toward the other beverage options available at each brewery.
What food options will be available?
There will be plenty of food options available during Brew at the Zoo, including our full menu from Cypress Circle Café, as well as our food kiosks around the Zoo. Place your order online ahead of time from Cypress Circle.
Note: Outside food and beverage is not permitted at this event. 
Can you bring outside food and beverage?
No, outside food and beverage is not permitted at Brew at the Zoo.
Will there be keeper chats?
Yes, you can chat with keepers from 6:00-8:00 p.m. in the following areas:
African Lions
Asian Elephants
Ankole cattle
Chimpanzees and gorillas at Great Ape Gallery
Meerkats at Natural Encounters
All areas of the Zoo will be open for you to explore, except for South America's Pantanal, John P. McGovern Children's Zoo, Kathrine G. McGovern Texas Wetlands, and Wortham World of Primates
Indoor areas for you to explore include:
Galápagos Islands
Carruth Natural Encounters
Reptile and Amphibian House
Bug House
Where should I park?
Free parking is available in Hermann Park near the Zoo's Main Entrance at 6200 Hermann Park Drive. There are also a few parking alternatives, including rideshare or taking the METRORail. Please note, that our Medical Center entrance will not be open.
What happens if it rains?
This event is rain or shine. There are no refunds.
Is smoking permitted
No, smoking is not permitted at the Zoo.