Do you love animals? Love the Zoo? Just love trying new things? Adults, this is your chance to live out your childhood dream of spending the night in a Zoo. Bring your friends, your family (age 18+), your neighbors, or just yourself, and come to the Houston Zoo for a wild adventure!
Includes:
Next-day admission to the Zoo, immediately after your program
A full dinner, a late-night snack, and a light breakfast (with lots of coffee!) the next morning
A variety of educational activities, intimate animal encounters, and staff guided front-of-scenes Zoo tours. We're capping this program at a maximum of only sixty people, to give everyone a personalized, special experience
Exclusive time in the Zoo after-hours, including the chance to sleep at the Zoo in your own tent!
A meet and greet with a zookeeper
Commemorative glow-in-the-dark overnight t-shirt
The overnight starts at 6 p.m. and ends at 10 a.m. the following morning.
Registration is $110 per person.
Thank you for the overwhelming interest and support of this new program! Spaces are now sold out!
Interested in other adult overnight opportunities like this? Drop your contact information below!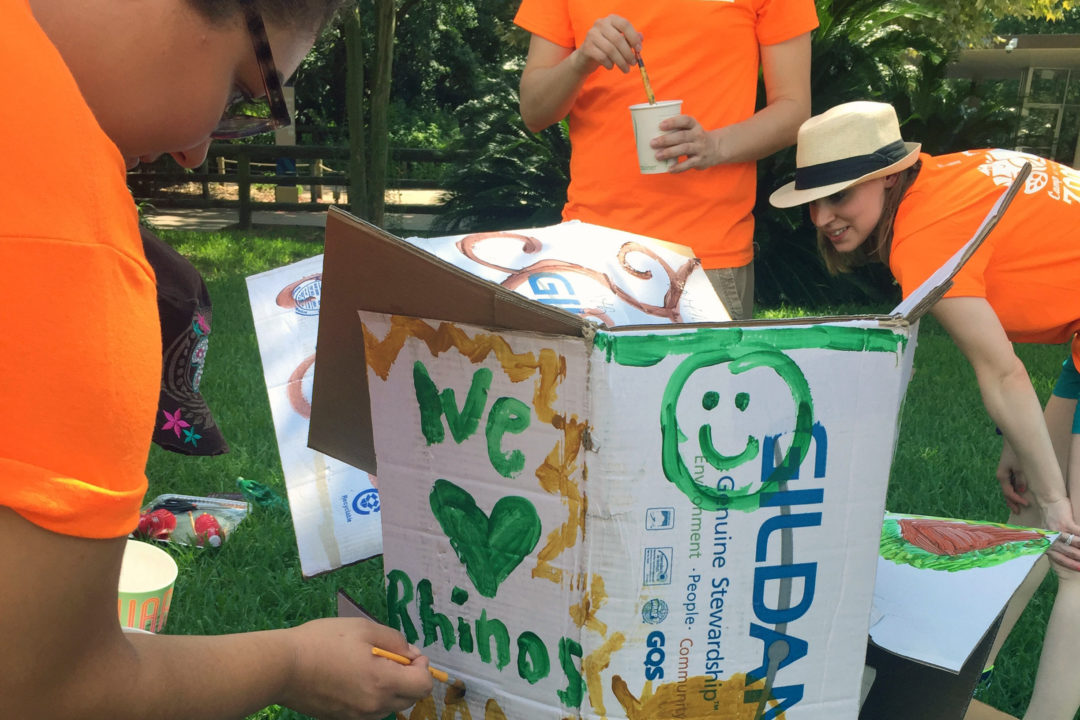 Interested in additional adult opportunities? Looking for a new Zoo experience? It's your turn to join in the Camp Zoofari fun! Camp Zoofari for Adults explores the connection between the Houston Zoo and wildlife conservation. Join us and see just how wild the Zoo can be!
Overnight FAQ's
Arrival
The arrival period for this program is 6:00-7:15 p.m. All participants will enter the Zoo through the Employee Entrance at Gate 1, which is located across from Memorial Hermann Emergency. The gate will open at 6:00 p.m. and participants will be greeted by our Overnight staff.
Once checked in, you will have time to set up your camping spot around the Reflection Pool and eat dinner in the Brown Education Center. Late arrivals are not permitted after 7:15 p.m. No exceptions or refunds will be made. Please plan ample travel time in case of unforeseen traffic or road closures.
Packing List
Camping materials such as tents are not provided by the Education Department for this event. Participants are responsible for bringing their own supplies. Suggested items to bring are listed below:
Tent (required –individual, double, or 4-person tents allowed)
comfortable walking shoes
reusable water bottle and travel mug

Help us save sea turtles by reducing our need for single use items!

weather appropriate outerwear – ponchos/jackets
bug spray/insect repellent
sleeping bag, pillow, sleeping pad or cot
pajamas, personal care items
change of clothes (showers not available)
Weather
Overnights occur rain or shine! In the event of extreme weather, notifications will be sent out by 2:00 p.m. on the day of the event. Should the event be cancelled, every effort will be made to reschedule, or a full refund will be provided. Should the weather become inclement during an event, activities will be modified and held within the Education Center until the weather passes.
Smoking and Alcohol
This is a smoke-free and alcohol-free program open to adults ages 18 and up.
Please note that smoking (including e-cigarettes) is prohibited on the entirety of the Houston Zoo grounds, including the parking lots.
Any guest found violating this policy during this event will be asked to leave without refund or readmission.
Accommodations or Special Requests
We want you to have a great experience! Please advise us of any disabilities, special needs, medical conditions or any other concerns you may have that could prevent you from fully participating in the experience. The more information you can provide, the better we can assist you. Please contact us before registration at education@houstonzoo.org.