Tarzan had his monkey Cheetah, Disney's Aladdin had Abu, and Curious George lives with the Man in the Yellow Hat. There's plenty of movie and TV references to monkeys living mostly harmonious – just a bit mischievous – lives with humans. But would a monkey really make a good pet?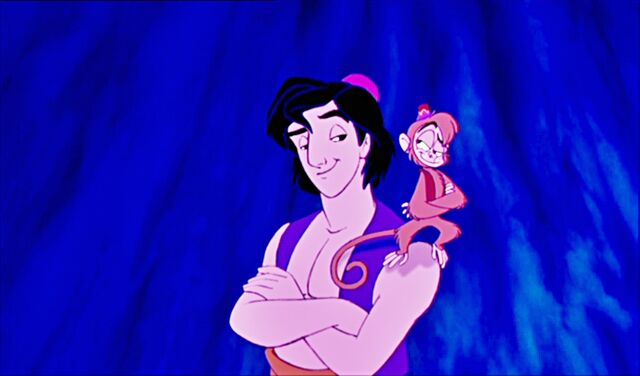 The risks of adopting a larger ape such as orangutan or chimpanzee are clearer. Apes are up to seven times as strong as the average human and unpredictably aggressive – they have natural behaviors that serve them well in the wilds of Africa or Borneo but don't translate to living rooms or backyards. The worse-case scenario is detailed here.
Apes can have lifespans of 50-60 years or more and need the social context of fellow primates of their own species and a natural environment in which to thrive.
But are small monkeys suitable as pets? Capuchins, ring-tailed lemurs, and squirrel monkeys might be the most common ones considered; in the show Friends Ross briefly had a pet capuchin, before it was confiscated as an illegal pet. In fact it's illegal in over a dozen states to keep any monkey or ape as a pet, as the dangers are real for you and for the potential pet.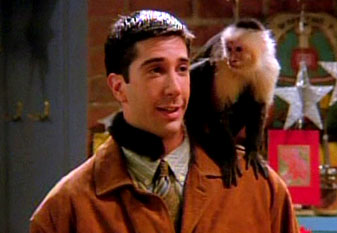 Lynn Killam, Assistant Curator of Primates at the Houston Zoo, has worked with and cared for primates here for 32 years. She has received many calls from those thinking of acquiring one, asking for advice. "I tell people that primates are wild animals, and all primates are potentially aggressive. That's why we do not go in with our apes and monkeys; the risk of being bitten is always a possibility." Primate teeth are very sharp, their jaws are very strong, and bites are often severe.
To see some personal accounts and (warning, VERY GRAPHIC) photos of monkey bites, have a look at the stories on the Pet Monkey Info website.  The stories all have the same ring to them – "Mr. Buttons was such a good little monkey for years until one day when out of the blue… and then I spent months recovering from my injuries and my hand (or foot or eye) will never be the same again."
Small monkeys might be more docile as infants, but they mature quickly and can live for up to 25-35 years. Primate keeper Lucy Dee Anderson works with many of our smaller primates such as tamarins and lemurs. "People think they might make a good pet as babies, because they are super cute, but they can't care for them as adults." Monkeys are typically sold as infants, taken at much too young an age from their mothers, and their adult life as a "pet" is typically tragic.
"As adults they can get relegated to awful cages where they are neglected," explained Killam. In the wild these monkeys live in family groups with complex emotional interactions; they need that constant social support and when left alone, they develop emotional and mental problems.
Physical health is as much a concern as mental health for you and for the monkey; they're similar enough to humans to carry illnesses we can catch. I won't even mention the ebola virus which you aren't likely to catch, but you could get ringworm, pink eye or parasites, and tuberculosis and Herpes B are also transmitted by monkeys, as well as the common cold. And monkeys are messy – they cannot be "potty" trained as a dog or cat can, as defecating wherever they happen to be is a natural behavior for them (and in the wild, it helps to replenish the forest with seeds.)
"Monkeys and apes need regular vet care to be healthy just like your dog or cat," noted Killam, but finding a vet who will care for a primate is not an easy task.
Want to read more about adopting a monkey as a pet? Here's some great websites to find out more:
The Humane Society's page on primate pets
A great article on monkeys as pets from National Geographic
An entire website dedicated to Pet Monkey Info