---
---
July 2014 – Lion Guardians
Check out this great video that helps to elucidate how people and lions can coexist in Africa!
---
---
March 2014 – Ewaso Lions
Conflict has been high over the past few weeks – our field team has been busy attending to all the cases. Meet our fantastic, dedicated field team – Letoiye (left), Lpuresi (middle), supervised by Jeneria (on the right) – they are amazing!
---
---
March 2014 – Niassa Lion Project
This is Mzee Matakiwa. He was one of the best fishermen on the Lugenda River. One day he was out fishing this time of year at the confluence of the Msangezi and Lugenda Rivers. This crocodile was caught in his net and pulled him into the water. There was a struggle and he stabbed the crocodile behind the eye with a home made knife. It must have been terrifying. He knew we were interested in all carnivores and ways to reduce conflict. He sent his son to call us with a length of reed to show us how long the crocodile was. We went to measure to croc and were amazed to see him back fishing so soon. Crocodiles in Niassa face significant threats as fishermen destroy nests, kill small crocodiles that are caught in nets and sometimes kill large crocs resident in the deep pools. In turn Crocodiles regularly destroy nets and injure fishermen particularly when they are wading in the water with a net Chingundenge fishing or bathing in the same spot every day. Their skins are sold once they have been killed. It isn't only terrestrial carnivores that need protection, we need to protect this carnivore too and have included them in our Safe behaviours poster!
---
---
February 15 – Ewaso Lions
We are proud to share that Shivani has been awarded the 2013 Rabinowitz-Kaplan Prize for the Next Generation in Wild Cat Conservation.
The award has been conferred by Panthera annually since 2007 to a special individual under the age of 40 who has made a significant contribution to conserving wild cats, and who represents the next generation of scientists, conservationists, policy makers, politicians, and planners who will steer the future of wild cat conservation. According to Panthera, Shivani Bhalla exemplifies the expertise, dedication and impact on the future of wild cats that the Rabinowitz-Kaplan Prize was created to honour.
Panthera's mission is to ensure the future of wild cats through scientific leadership and global conservation action.
Shivani, a fourth-generation Kenyan who founded Ewaso Lions in 2007, is honoured to accept this remarkable award. "I'm deeply grateful for this award from Panthera," said Shivani. "I accept the award on behalf of our amazing team members, who have dedicated their lives to fighting for Kenya's lions."
The award, which totals $15,000, will go directly to Ewaso Lions' community-based conservation programmes for lions and other large carnivores in northern Kenya.
Check out the story on Ewaso Lions' website!
---
---
February 17 – African People and Wildlife Fund
We would like to share with you some of the pictures of the ongoing construction of a food store in Loibor Siret primary school. The winner of the Loibor Siret Primary School drawing competition of the Tanzania People & Wildlife Fund Logo will have a chance to draw the logo on this newly built building. We will keep on updating you on the progress.
---
---
February 16 – Ruaha Carnivore Project
Great news! The female cheetah with the huge wound on her flank (see earlier posts) was just seen by RCP Senior Research Assistant Msafiri Mgumba, with 3 cubs!! The female and cubs all look healthy and well, so this is a lovely new chapter in her story!
---
---
February 14 – Lion Guardians
Lion Guardians needs your help. We urgently need laptops and basic point and shoot cameras to support our expanding efforts in the field. The laptops will be used at our Training Center and new partner sites to replace non-functional computers as well as to equip new staff. We are also trialling the use of point and shoot cameras so that our Lion Guardians can report back from the field more effectively and also share stories – and pictures – of their lions with their communities. Donations of new or used laptops and cameras will make a big difference on the ground in monitoring lions and safeguarding communities. Please get in touch with us at info@lionguardians.org to donate. Your support is much appreciated.
We would also appreciate it if you could forward this appeal to your family and friends.
It takes a community to conserve lions & preserve cultures – join ours today!
---
---
February 14 – Niassa Lion Project
The Mariri Environmental and SKills training centre for Niassa's children and adults will be open in 2015! 2014 is our last year of building and we can't wait to have a place where children and adults can come to learn about the Niassa, conservation, animals and practical solutions to human-wildlife conflict. Building a conservation friendly community one person at a time will be our goal.
"Research shows that children learn best when they have hands-on learning experiences, engage in structured play, experience facts within meaningful contexts, invent their own problems to explore and solve, and share their own solutions".
---
---
January 13 – Ewaso Lions
Good things happen when our entire field team gets together for a day of games and team building skills.
With Samburu lush and green following the rains, we held our annual Tenebo Day in December – tenebo means "together" in the Samburu language. We brought all our field staff, Lion Scouts, camp staff, plus members of Warrior Watch for activities that would get them thinking, talking, laughing, engaging as a unified team.
Sports Day included simple races such as three-legged race, potato and spoon race (blindfolded) and sack race causing much hilarity and bringing out the competitiveness in the teams.
Round the Table included activities such as threading a needle, putting a deck of cards in number order and making the longest word from a set of nine letters. But, perhaps the most successful activity in this section was the small mini animal jigsaw puzzles that the teams had to solve. Most of the Ewaso Lions team had never seen a jigsaw puzzle! So, to explain to them what it was, show them how to put one together and then watch as they painstakingly put one together with the help of their teammates, brows furrowed in concentration, quietly whispering – was quite fascinating! Team Moses won this activity.
Treasure Hunt was quite a tough activity for the teams but by the last clue everyone had got the hang of it – and once again this was a hugely competitive activity. Each team was given a clue in English, and it was then translated to them by their team leader who then sent one of his team members to find the item being described.
---
---
January 12 – Lion Guardians
2014 is definitely off to a great start. We recently received the exciting news that Dr. Leela Hazzah has been declared one of the winners of the Future for Nature Award – 2014.
The Future for Nature Award is a prestigious international award that celebrates tangible achievements in protecting wild animal and plant species.
The Lion Guardians team is proud of this achievement – hongera sana (congratulations) Leela! Leela will attend the award ceremony in March/April this year and we will be sure to update you on the proceedings!
---
---
January 11 – African People & Wildlife Fund
APW scientific advisor, Oswald Schmitz, is a contributing author on this article in Science demonstrating the critical
 importance of large carnivores like lions and the sad loss of these animals from many parts of the world. We are pleased to be successfully reversing this loss in areas where our team works.
---
---
January 08 – Ruaha Carnivore Project
It was a photo finish (haha), but the winner of the baby category of RCP's Game Driver Contest is this heart-melting shot by Ruaha River Lodge's Majuto! Thanks to everyone who voted. Next category: cutest photo!
---
---
January 03 – Niassa Lion Project
Beautiful Niassa male lion -Paulo with a glint in his eye and his GPS collar hidden by his mane. He is part of our long term study of lions in Niassa Reserve in our intenisve study area. In this 600 kmsq area we monitor all the lions and their movements and have been doing so since 2005. We removed Paulo's collar in 2013 and should receive the information stored on board soon. 4 GPS points are taken a day.
---
---
November 26 – Lion Guardians
Last week was a busy and productive one at our Field Headquarters in Naihrabala! Not only did we hold a training session for three new Lion Guardians, but we also spent time brainstorming with a collaborator who studies lions in the Ngorongoro Conservation Area of northern Tanzania.
Meet our newest recruits!
---
---
November 22 – Niassa Lion Project
All the groups that come to Mariri come to the Elephant memorial to talk about elephant poaching, what it means and what we need to stop it. Mariri is already very busy and this memorial, designed by Tony Cunningham and built in a combined effort with the construction teams, scouts, Mariri staff when he was here helping with the Ethnobotany book has done a huge amount to bring the conversation about elephant poaching and its consequences to the communities in Niassa and reporters in the region. It is a place for respect for elephants. They have visited it too judging by the dung we find nearby.
---
---
November 21 – African People and Wildlife Fund
On the eve of Elvis' 300th Living Wall, we were thrilled to celebrate his designation as a Conservation Hero by the Disney Worldwide Conservation Fund at Noloholo. Visiting board member, Ann Smith, did the honors!
---
---
November 21 -Ewaso Lions
Check out this amazing photo of Jeneria and Jane Goodall from the Wildlife Conservation Network Expo last month. See our blog for more!
---
---
November 18 – Niassa Lion Project
Yesterday was a day of celebration at Mariri Environmental Centre and skills training centre. 14 VIPS (Chiefs and Elders) from the Mbamba Village and the 20 voluntary farmers came for lunch, speeches, a tour, and certificates. We sent Jomba over there to manage the cooking for more than 40 people. He did a great job with the Mariri cooks Fernando and Issa.
The group have learned how to implement conservation agriculture techniques in their fields- mulching, mixed cropping, low tillage. This is their group, their learning and experimenting that is helping the whole community. They will be moving onto their second year of testing new methods. 13 members have implemented the teachniques used in the conservation agriculture test fields in a portion of their own machambas .
I know it looks like all we do is give out certificates and Tshirts but they are a symbol of belonging , a celebration and recognition of effort and of being part of a proactive group. A simple way to recognise what is being done by the communities for themselves. all the speeches by the Chiefs were about conservation and value of partnering with NLP. This is the first time any of these people have ever attended any training program and been recognised by their community. This program is going very well. Thanks to Mbumba and his assistant Manuel.
How does this program relate to lion conversation? We can't have a conversation about conservation when people are wondering where their next meal is coming from, food security was identified as a critical need by communities and this comes to them as a benefit from conservation and lions. It also will ultimately reduce the need for income from illegal activities. Conservation has to take place alongside some sort of poverty alleviation given that 35000 people live inside the protected area. This program takes place alongside the beehive fence program and livestock husbandry. Step by step, person by person, village by village we will get there.
---
---
November 11 – Ruaha Carnivore Project and Lion Guardians
RCP's Lion Guardians Project Expands
The Lion Guardians project in Ruaha is expanding. The expansion will follow the Wildlife Management Area boundary to the north into the Malinzanga area, where there has been a high level of human/carnivore conflict over the past 12 months. Two new zones (zone E and F on map below) will be added, creating four new Lion Guardians jobs, which would take the total to 11. The Ruaha Lion Guardians are local warriors who warn people when lion spoor is found in their zone, search for lost livestock (and children) and help livestock owners repair their bomas after an attack. They also work to prevent or stop other warriors from hunting lions. This program has proved very successful in Kenya with Maasai warriors – see www.lionguardians.org – and The Ruaha Carnivore Project is very pleased to partner with the Lion Guardians team in Kenya to test how well this works around Ruaha with Barabaig warriors involved.
---
---
November 07 – Lion Guardians
New Lion Guardians!
We are excited about our newest expansion site into Tarangire, Tanzania. In collaboration with Dr. Bernard Kissui and the Tarangire Lion Project, nine new Maasai Lion Guardians have been hired and are actively protecting lions in the community areas north of Tarangire National Park. These are key areas to provide connectivity between Tarangire NP, Lake Manyara and other lion populations to the north and west.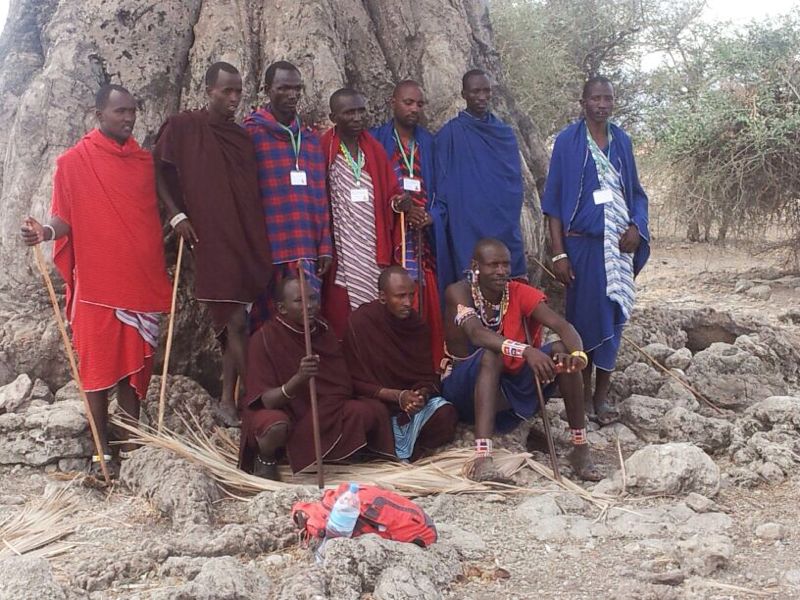 Members of the Kenyan Lion Guardians team are currently in Tarangire, working with the new Lion Guardians. They report that the training is going very successfully. The Tarangire Lion Guardians are dedicated to their work; they are already making great progress with their literacy skills and have already stopped two lion hunts!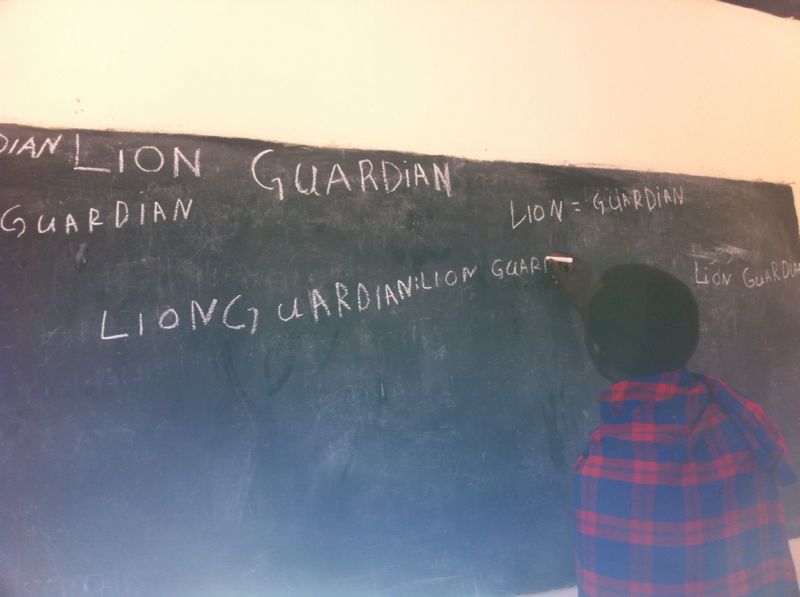 We are excited about the collaboration between Lion Guardians and the Tarangire Lion Project to protect the lions of Tarangire and beyond. We will keep you updated on the progress at this site.
Your support helps spread the Lion Guardians model across East Africa, protecting lions outside of formally protected national parks and other wildlife areas. Please consider supporting our work as we expand our collaborations to save lions across Maasailand. We are looking to purchase a vehicle to aide the Lion Guardian Tarangire team so they can respond to conflicts quickly and access the community areas where lions are coexisting alongside people and livestock – your donation can make a difference!
---
---
November 07 – Ewaso Lions
We were treated to a great sighting of Nanai and her new cubs in Samburu National Reserve (SNR). Nanai, a nearly 4-year-old lioness, gave birth to the lion cubs in early September.
On November 3rd we saw Nanai on top of a rocky hill in SNR. We drove close and she kept calling and calling. Then, two little cubs appeared, including this brave male.
---
---
November 03 – Niassa Lion Project
21 pieces of ivory seizured in the Ruvuma Elephant Project Area. The ivory is reported to have come from Mozambique.So so sad! In the same operation we also seized a 375.rifle, arrested three elephant poachers, 59 timber planks and motorcycle with trailer. The photo shows identity numbers being stamped into each tusk.
---
---
October 16 – Lion Guardians
The Lion Guardians found Nempatipat, daughter of Selenkay and Nedlie, drinking from a watering hole. The clicking sounds you can hear is the camera as we take pictures of her whisker spots, ears, and other markings to ensure correct identification. ENJOY! Video credit: Tory Shelley
---
---
October 16 – Ruaha Carnivore Project
Our friends at Mwagusi Safari Camp just shared this interesting incident with us – a female leopard clearly decided that their storage area was very attractive, so proceeded to use it as a place to store her cub! Once the cub was found, though, the mother decided it might be best to move it elswhere, so she has moved it out to a slightly more appropriate site. Clearly even the wildlife agree that Mwagusi is an amazing place to stay for a while!
---
---
October 15 – Walking for Lions
Exciting news! On National Teachers day in Mozambique, Mbumba presented the prizes for the first School Conservation Competition organised by NLP. The Five winning students won personal prizes (bags, certificates, school materials) as well a soccer uniforms for their school. The first competition only had 30 entries, but Mbumba says there was much excitement when the prizes were handed out in front of all the teachers, parents and Government representatives .."Teachers and students are asking NCP to not stop this competition. They said that if there is another edition of this competition next year there will be more teachers, more schools and students participating." We are going to link this with the Environmental centre and slowly but surely we will build a conservation culture in Niassa and a pride for living in this incredible place. Thank Mbumba and Joaquim who made this possible.
---
---
October 2 – Walking for Lions
Greetings all friends of Walking for Lions
News from the Field
We recently returned back to Maun (Botswana) to refuel, restock and have a cold drink as Moremi National Park is EXTREMELY warm with temperatures up to 45 degrees during the middle of the days. So far we have been blessed with various wildlife moments that truly do take our breath away, but let us tell you, we had to work very hard to be able to view them. From hippos running at us at night, or through our camp, to baboons and hyenas playing around our tents.
Moremi National park looks like a small reserve but it is truly a large place with many obstacles. The good news is that we have not had any rains yet, and normally one would think it's bad news, but to do a Lion Survey, one needs to have as much road network availability as possible. Finding all these lions is extremely difficult and on average we search 11 hours daily as road densities are high and water crossings play a major part in travel. One thing that we have found interesting is that for some reason the lions are not utilising the roads as much; they do use them but move off quickly so tracking has become a bit difficult as well.
After nearly 2 weeks of searching for these lions, we have identified 7 males and one female. One might wonder why we have not seen more females and the answers could be due to the season we have entered. Most lionesses are either on the verge of giving birth, have new born cubs, or due to this lack of major pride movement have decided to make their movement area smaller. But there is an old saying that if you keep on going you will eventually achieve what you were after and so we will continue looking for them until we do find them.
Moremi National park is truly an inspiring place and the wildlife is indescribable, to say the least. It is surrounded by many famous islands that have been filmed for many years by fantastic film makers so we recommend you all to have a look at this place and when you ever decide to return to Africa.
Another major thought to process is this: How many lions are there still roaming the wild?
Some estimate over 30 000, and others under 15 000.
So lets give the lions the benefit of the doubt and say there are roughly 22 000 remaining in the wild. How many adults are there out of the 22 000? Cubs under 12 months? Juveniles? Males? Females? Corridors for them to move in between? It is of vital importance that we determine these exact figures, as if the gender ratio is off, their survival will be doomed.
It does make one wonder and we hope you have enjoyed our brief feedback from the bush.
Happy October to all of you and we will keep you updated shortly.
---
---
October 1 – Niassa Lion Project
So excited to see Mapili and her two cubs on Camera trap five today when Euzebio got back today. He moved one of the camera traps to the one dead elephant to see who comes in. It looks like new lion Guy has been hanging around the carcass.
---
---
September 25 – Ruaha Carnivore Project
We just put 110 camera traps out in Ruaha National Park. If you're interested in seeing what lions, hyaenas, elephants and giraffes do when they don't think anyone is watching, consider joining RCP's Ruaha Explorers Club. Proceeds support RCP's work protecting large carnivores.
---
---
September 24 – Lion Guardians
A quotation from a Lion Guardian about the Westgate attack, in Maa: "Meetai kinturiate kiserian" – We have been affected, but we are at peace.
---
---
September 23 – Ewaso Lions
New lion cubs have arrived! Nanai (pictured here from a few weeks ago when she was very pregnant) just gave birth to three cubs in Samburu National Reserve. These are her first cubs. We'll post photos of the cubs soon.
---
---
September 20 – Walking for Lions
Our broken camera traps were restored and sent back to us. With them back, we also asked for Metal Cases to protect these little guys from those big ellies. Have a look at them. Hopefully a bit more elephant proof. Once the vehicle is back after service, then we are good to go onto the next stage of Botswana.
---
---
September 18 – Ewaso Lions
We are saddened to report that Loirish was killed by gunshot. His killers and their motives are unknown but we are working with local partners and authorities to follow up. His brother Lguret seems to be ok. This is the first time a lion has been killed by people within our study area since 2010. Full report at http://ewasolions.org/loirish-the-lion-killed-by-gunshot/
---
---
September 17 – Lion Guardians
Lionesses Meoshi (left) and Selenkay (right) were found yesterday evening resting near a young female oryx they had killed. The Guardians were surprised to see that Selenkay, mother of Meoshi, was able to assist in taking down the oryx given how pregnant she is! She is due to give birth any day now to what will be her 4th litter (see how big her belly is?!). The cub boom continues!
---
---
September 15 – Niassa Carnivore Project
So what was accomplished today: Euzebio checked 5 camera traps (no lions, but two hyaenas, one leopard and a lot of other animals) and found three radiocollared lions, Orlando followed vultures and found a bushbuck killed by wild dogs, I put all the river survey (fishermen, hippo, skimmers) data on the computer, and did school with E and F, Keith was resupplying in Pemba and picking up visitors, Agostinho went to Mbamba village to arrange teacher's visit (8) tomorrow and dealt with the thousand other things Agostinho deals with every day at Mariri with 57 men from Mbamba Village building the Environmental centre at the moment, the scouts were out on patrol. A thousand small things that hopefully pull together to successfully conserve lions and Niassa in the end.
Caught and collared a new male lion in the intensive study area. Here is Agostinho, our Conservation Manager with the lion. We have named him Guy – in honour of Guy Balme and Panthera who has helped and supported us so much over the years. Thank you to Peter Lindsey and Paul Funston from Panthera who have just spent a week with us in the field, helping to strategise for the future. We so appreciate all the discussions and ideas. Panthera have been partnering with us on this project since 2007.
---
---
September 12 – Ruaha Carnivore Project
Mongabay has published an interview with our director, Amy Dickman! Check it out to hear about protecting predators, and how Amy interacts with both people and wildlife for conservation.
You will also see that this Lion SSP site is mentioned! Wonderful!
---
---
September 11 – African People and Wildlife Fund
Can you spot the Lion?
30 children from Kangala did during a trip to Tarangire National Park. Every year we take children from local communities nearby, Tarangire National Park. For many of them it is the first time entering the park and seeing most of the spectacular wildlife. We'll take nearly 200 children into the park this year!
---
---
September 03 – Ewaso Lions
We have just seen Naramat – a female we have not seen in almost 3 years! And… she has a cub who has just been named "Lentim". We are so excited!
---
---
September 02 – Ruaha Carnivore Project
RCP's future livestock guarding dogs have been born! In about 8 weeks, Msago will travel down to Namibia to pick up four puppies from the Cheetah Conservation Fund (CCF). We will place a pair with two different families. LGDs become extremely protective of whatever they are raised with–in this case sheep and goats–and typically frighten away predators with only their ferocious bark. We are very excited about testing LGDs in the Ruaha area. This photo was taken at CCF on the day the puppies were born.
---
---
September 01 – Niassa Lion Project
Our website has been updated and is now live at www.niassalion.org. All our thanks to Meredith and Leda for their invaluable help with the text and Glen of Cocopine Web solutions for all their hard work. Let us know of any glitches!
---
---
August 26 – Lion Guardians
A very cool interactive version of the recent August National Geographic Magazine which focused on lions and also featured Lion Guardians. Use your mouse or keyboard arrow keys to navigate it…here.
---
---
August 25 – Ewaso Lions
Today the Ewaso Lions team assisted Sasaab manyatta by strengthening their outer boma (fence). Hopefully this will help stop hyenas getting in.
---
---
August 19 – Niassa Lion Project
Two new cubs – and pride updates
One of our collared female lions, Mapili, has had two cubs, which are now about four to five months old! We first caught her in a camera trap photo playing with one of the cubs and later located her with her TWO new additions. We were able to change her collar, and confirm that the cubs are doing well. Now we have a year's worth of data to analyze from Mapili. The three were with Akomwana and her older cub Akeelah, and it was wonderful to see the 5 lions together. Akeelah is getting big and looking great; she is now 20 months old. News flash! In mid-August, we spotted Flavia (born in 2006) and two new little cubs, about two months old! Surviving cubs is the best sign we have that our efforts are bearing fruit. May they all grow old and strong!
---
---
August 17 – Ruaha Carnivore Project
RCP's Community Liaison Officer chosen as a 2013 Disney Conservation Hero
We are thrilled to announce that RCP's Community Liaison Officer, Ayubu Msago, has been selected as one of the Disney Conservation Heroes for 2013! Msago truly deserves this honour – he has dedicated his whole career to wildlife conservation, and has made huge positive impacts on both people and wildlife.
In 2009, Msago was part of the small team that started RCP under very difficult conditions – there were only 3 people living in small tents in a very remote wilderness area, and the local tribe, the Barabaig, were extremely secretive and hostile. Msago worked tirelessly to build a field camp for the project, and spent years patiently trying to build relationships with the Barabaig, who were killing an extremely high number of lions, usually in response to attacks upon livestock. One night, a young Barabaig girl went missing, and Msago helped organize a search party for her and searched for 3 days till she was found, very dehydrated but alive, in the bush. This helped him bond with the fearsome Barabaig warriors, and enabled him to become the first outsider that they accepted and were willing to work with.
Msago has also helped villagers protect their livestock from carnivores by building over 50 predator-proof corrals, and not a single head of livestock has been lost in one of these enclosures. Msago works tirelessly to help villagers prevent carnivore attacks, and even heroically saved the life of a villager who was being attacked by a lion, at extreme risk to his own life. With only one bullet left in his gun, he chose to protect the villager rather than save a bullet in case it was needed in self-defence, and chased the lion off by shooting over her head.
Long-term conservation depends upon local people seeing real benefits from conservation, so Msago has also worked endlessly to develop meaningful community benefit initiatives. He worked with the national government to equip a healthcare clinic, helped establish secondary school scholarships for pastoralist children and developed a program to link village schools with international schools. He is endlessly passionate about conservation – he conducts wildlife DVD nights in local villages, which have engaged over 10,000 people so far, and has taken hundreds of warriors, women and schoolchildren on educational visits to the nearby National Park. Living in a small, remote tent, hundreds of miles from his wife and children, Msago is making a huge difference to the conservation of over a tenth of the world's remaining lions, while also helping local communities see real benefits from carnivore presence. His dedication, passion and patience have played a huge role in RCP's success – lion killings have declined in the core study area by 70%, and that could never have been achieved without Msago – he truly is a conservation hero and we are thrilled that he has received this international recognition.
---
---
August 12 – Lion Guardians
Organized to bring greater attention to the plight of the lion, Saturday the 10th of August 2013 has been designated as the 'World Lion Day'. On this day, individuals and groups were encouraged to take action that demonstrate their interest and support in protecting the World's remaining lions. The Lion Guardian Program is proud to be one of the groups listed on the official World Lion Day Campaign website. We therefore decided to hold our own World Lion Day event at Naor-Enkare Primary school neighboring our Central camp. We organized a very successful film day attended by over 130 school pupils and community members including women.
Visit the blog for more pictures and to learn more about the day!
---
---
August 9 -African People & Wildlife Fund
To find out more about what our organization has been up to, check out our latest issue of the Carnivore Chronicle!
---
---
August 6 – Lion Guardians
Lion Guardians is often contacted by communities looking for solutions to the high conflict they are experiencing between lions and livestock. They have heard of our approach in the Amboseli ecosystem and are curious to learn more about the program. To facilitate this process, we have produced a film for these communities explaining the program and how it could help them. This film is meant to be shown to entire communities, as the success of our model depends on community consensus to participate in the program. The film has been prepared in both Maa (Maasai language) and Swahili (common language of East Africa) with English subtitles. Enjoy!
---
---
August 6 – Ewaso Lions
The 10th of August 2013 marks the first World Lion Day, which has been organized to raise global awareness about the steep decline of Africa's lion population. World Lion Day encourages individuals and groups to hold campaigns or events that support conservation efforts on the ground.
Ewaso Lions has been designated as a group which should be considered for support. More information on World Lion Day can be found at worldlionday.com.
Ewaso Lions is participating in World Lion Day by hosting an event here in Samburu, ans we still need $900 to make it happen. On August 10th, we will acknowledge and thank the "Friends of Ewaso Lions" – the numerous local community members who support and assist Ewaso Lions in our conservation efforts.
These "Friends" often notify us about lion locations via text messages, phone or radio calls; accompany our Lion Scouts to places where human-wildlife conflict has occurred; and even provide additional security when we respond to high-risk wildlife situations such as threats to kill lions. The "Friends" form an important network across our study area that greatly increases the amount of information reaching Ewaso Lions, while also building goodwill for conservation across communities.
Ewaso Lions will give talks on lions and the importance of conserving them, and emphasize how important it is to have continued support through the vast network of "Friends" that assist us all with our work.
Donate to help us get the message out on World Lion Day!
---
---
August 5 – Niassa Carnivore Project
For the past two weeks, Dr Tony Cunningham (ethno-ecologist) has been working with Agostinho, Joaquim and a team of local elders to document the first Cyao plant book on the uses of plants in Niassa (medicinal and practical). This book celebrates indigenous knowledge and the connection Niassa's people have with the wilderness. The book is being developed page by page as they go and more than 100 plants have so far been identified. On Saturday night we celebrated the first edition of the book with a slideshow and meal with elders from Mbamba and our team. It was a wonderful night and the start of the Mariri Environmental Centre book series that will celebrate indigenous and biological knowledge as part of our partnership with communities to conserve Niassa.
---
---
July 29 – Ruaha Carnivore Project
Incredible shot from one of our camera traps. This camera was set up in northern Ruaha National Park earlier this year, to collect first-of-its-kind data on the location and abundance of large carnivores in the Ruaha landscape. All of our camera traps can be sponsored (this is the Richard Simms cam), as part of our Ruaha Explorers Club. If you're interested in joining the Ruaha Explorers Club, message us on Facebook for more details.
---
---
July 29 – Niassa Carnivore Project
More than $2000 paid to at least 30 local women for thatching grass for Mariri Environmental Centre. A great way to get income to women.
---
---
July 29 – Ewaso Lions
On the 6th and 7th of July, we held the first official training for our new Wazee Watch programme which we are launching in Westgate Community Conservancy, here in northern Kenya. Wazee is the local word elders, which is pronounced "wah-zay". Wazee hold very influential positions in Samburu culture, so if they promote wildlife conservation within their communities, they will inspire others to do so.
The recent training was about wildlife conservation, human-wildlife conflict and coexistence, land degradation, livestock husbandry techniques and much more. We hoped that by the end of the two days, we would find better solutions to solving conflict and to build capacity within this group of wazee.
Check out the entire article.
---
---
July 25 – African People & Wildlife Fund
At the Noloholo Environmental Center on the Maasai Steppe in Tanzania, the environmental education staff of the African People & Wildlife Fund (APW) are creating a curriculum to teach the children of nearby Loibor Siret Primary School how to use a computer.
Find out more about how big cats are bringing computer education to the Maasai Steppe in this fascinating article about APWF from National Geographic!
---
---
July 23 – Niassa Carnivore Project
Our new "fridges" for keeping vegetables cool. We saw the design in a book on local designs. They are used in Nigeria to keep vegetables cool at the market. Mama Asani made this version for us in Mbamba Village. You fill the space between the two bowls with sand and wet it. The vegetables go in the smaller bowl and are kept cool by the evaporating water. It works really well and vegetables stay fresh for weeks without electricity.
---
---
July 22 – Lion Guardians
We are very proud of the high profile recognition we have received this year of the merits of the Lion Guardians program. First, David Attenborough and the BBC Africa program. Now we are featured in the August issue of National Geographic in an article written by David Quammen. We hope that all of this positive coverage will prompt you to donate to our program as we rely on your public support to carry out our vision of sustainable coexistence between people and lions in Africa!
---
---
July 20 – Lion Guardians
Help us to continue making a difference. Lion densities in Lion Guardian protected areas of the Amboseli ecosystem have almost doubled since 2009! Support Lion Guardians to enable us to do everything that we can to make sure that this positive trend continues.
---
---
July 18 – Walking for Lions
We would like you all to be apart of this very large survey. As you can see with some of the images in our facebook album, the area is remote, very open and does make it hard to track the animals down with old school methods. But nonetheless, we are grateful for what we have seen so far and will keep you all posted as we go along. All we can say so far is that; the lions truly are scarce in these areas.
Visit our album to see more.
---
---
July 18 – Ewaso Lions
Check out our latest field report, including stories about our Lion Lights, Lion Watch program, Lion Kids Camp, Running for Lions, even more…and even a surprise and furry addition to our family!
---
---
July 18 – Niassa Carnivore Project
Look who we found on one of the camera traps – Mapili and a new addition! Such great news. Now just need to find her so we can download all the information on the GPS radio collar and see if there are more new cubs.
---
---
July 16 – African People & Wildlife Fund
On the weekend we said goodbye to our second summer camp! After a great week of laughing and learning about ecology, culture, and leadership, it was sad to see them go back to their villages. We can't wait to see some of them again next year!
---
---
July 16 – African People & Wildlife Fund
APW Directors contribute to a comprehensive study about conserving lion populations without the use of fencing.
Check out the pdf.
---
---
July 15 – Ruaha Carnivore Project
Baby elephant from the Fuzzy Fun Cam.
---
---
July 15 – Lion Guardians
Now you can hear Ruaha Lion Guardian Gwagi's whistling! He's in the photo to the right eating tasty watermelon.
Click here to listen.
---
---
July 13 – Niassa Carnivore Project
Akeelah is getting big and looking great- we changed Akomwana's collar 2 days ago. Akeelah is now 20 months old. We really need Akmowana to have more cubs but she is always alone.
---
---
July 9 – Niassa Carnivore Project
EXCITING! First 7.5 litres of honey harvested from the first elephant beehive fences! The community beehive group (11 members and growing) would like to sell the honey and provide a small income for themselves. Honey from 4 hives has been stolen and this will be brought up at the next meeting. Following Lucy King's example, we would like to label this honey as elephant friendly and organic and are sure we can sell it. Well done Beehive group and Mbumba!
---
---
July 8 – African People and Wildlife Fund
We just finished up our first week of the Noloholo Environmental Summer Camps. We welcomed 10 boys and 10 girls from the villages of Loibor Siret and Narakauo. They participated in many events both inside and outside the classroom. From birdwatching and a classroom lesson on composting to hiking and musical chairs. It was an fantastic week and our staff was sad to see the kids go. Our team created a short video presentation that we showed the kids on their last night at Noloholo. We hope you enjoy it as much as they did.
---
---
July 7 – Ewaso Lions
June was a fantastic month for predator sightings! Lion and wild dog sightings in the National Reserves and Community Conservancies every few days, and leopard with cubs in 3 different areas – a one year old cub in Samburu, two 8 month old cubs in the Sasaab area and this new cub in the Conservation Area of Westgate.
---
---
July 6 – Niassa Carnivore Project
5000 bricks already made to start second year of construction at Mariri Environmental and Skills training center. All made in Mbamba Village with manual brick press under the leadership of brick team leader and Mbamba resident – Simba (Simba means Lion in Swahili – how's that for an appropriate name!)
---
---
July 4 – African People & Wildlife Fund
On Sunday we had a very special visitor come to Noloholo. Dr. Sarah Durant, the leading expert on the Serengeti Cheetah Project met with APW director, Dr. Laly Lichtenfeld. The officers of the many departments at APW each gave a short presentation on the work they do, from Living Walls to entrepreneurship and education. Dr. Durant has been working in Tanzania for 22 years. About 10 years ago she expanded the project to start and set up the Tanzania Carnivore Program which is based at the Tanzania Wildlife Research Institute. We hope to work closely with her in the future!
---
---
July 3 – Living With Lions
Check out this lion tracking map from our pals at Living With Lions! It's surprising to see how these guys move around…and around…just in one day.  Click the image to jump on over.
You can also visit our page to learn more about how lions are collared, and why we would want to collar them in the first place.
Fun fact: Wildlife collars do not affect a wild animal's habits, or others around them. There are never any flashing lights, futuristic robotic noises, or constricting attachments. Though you can sometimes see wildlife collars with the naked eye (which is good to have if there is a hunter about), they are not meant to be invasive.
---
---
July 3 – Niassa Lion Project
This is the philosophy behind our Living fences program using Commiphora africana. It will eventually help reduce lion attacks on people working in their fields at night in the wet season.
Living Fences: How-To, Advantages and Tips
Sustainable living fences can hold animals, protect soil, provide livestock fodder, offer food or compost, and will last generations.
A living fence is a permanent hedge tight enough and tough enough to serve almost any of the functions of a manufactured fence, but it offers agricultural and biological services a manufactured fence cannot. For instance, it provides "edge habitat" that supports ecological diversity. As more species (insects, spiders, toads, snakes, birds and mammals) find food and refuge in this habitat, natural balances emerge, yielding, for example, a reduction of rodents and crop-damaging insect populations.
Read more on living fences.
---
---
July 2- Ruaha Carnivore Project
Here is a lovely photo of a very dark African wild dog, spotted in the Lunda area (outside the National Park) by Pietro Luraschi from Kwihala Camp. There was a pack of about 20 dogs, and all of them were really dark – and they were all having a lot of fun chasing each other! Ruaha holds one of the most important populations of endangered African wild dogs left in the world, although it is still very rare to see them.
---
---
July 2- Ewaso Lions
Ewaso Lions' Laikos Letupukwa and Machakos Lepore finished the Lewa Marathon a few hours ago. Known as one of the world's toughest marathons, Letupukwa finished the half-marathon in 1 hour and 24 minutes, with Lepore finishing in 1 hour and 44 minutes. We are so proud of the two warriors – a fantastic achievement!
---
---
July 1- African People and Wildlife Fund
It's a wonderful morning here at Noloholo! Our first group of campers from Narakauo and Loibor Siret have arrived for the first week of the Noloholo Environmental Summer Camps! We'll have plenty of updates and news for this week so make sure to check out our blog and facebook news feed. Here's a picture of our environmental education officer, Neo, briefing some of the kids who arrived this morning.
---
---
June 25- Ruaha Carnivore Project
These amazing images of a wounded cheetah were submitted to us…….we are unsure what caused the injury, but it could possibly have been the result of a lion biting or grabbing the cheetah. Happily, the wound seems to be healing and the cheetah was moving very well, so hopefully it will eventually close over and just leave a very impressive scar!
Here you can see the progress of the wounded cheetah, Pietro Luraschi from Kwihala Camp saw her again last week, and she looks to be doing well. The wound will take ages to heal over, but is still healing with no obvious signs of infection. She appears to be in good condition despite the injury so fingers crossed that she heals well!
---
---
June 22- Walking for Lions
With only a few days left before we depart for one of the biggest tasks ever, we wanted to share some of our planning with you so that you know what is installed and how difficult it actually is to do a survey in remote conditions.
This map is known as Chobe National Park in Botswana, the 3rd largest reserve in Botswana and estimated to be over 11, 700 square km.
Completing a Lion Survey takes long hours, rough conditions and extreme patience, below are a few details we think about before our field outings.
Planning a survey can take a lot of time and, as a few things can go wrong, of utmost importance. You start out heading for particular zones;  max time spent in each zone is 2 – 3 weeks. Sometimes it is hard to find lodges or emergency facilities, you will not find easy fuel availability or a high road network. Planning of fuel and movement should be done accurately and effectively.
When going out on a drive to look for Lions, please keep in mind that the road is not made from tar, thus has very rough, bumpy and thick sand. Damage to a vehicle is inevitable, flat tires and well, it is always advisable to make sure at least somebody knows where you are going and your route. Note that in the Southern Section there are not a lot of roads available to drive on. This will make counting Lions extremely difficult due to low accessibility. So new ways of methods will have to be made to enter and search for them.
---
---
June 20- Niassa Carnivore Project
Full speed ahead on many fronts as the dry season is in full swing. The  tasks ahead sometimes seem overwhelming, but still we are inspired by how far we've come. This is year two of construction at the Mariri Environmental and Skills Training Centre, and we plan to complete Mbumba's house, the refectory and library, and 5 cottages for visiting children and teachers. Our experienced local team is back on the job, and a second team is starting the skills program. The anti-poaching team is expanding to 12, diligently removing snares and bravely pushing back at poachers. Our farmers' cooperative has harvested a first crop planted using conservation agriculture techniques. The beehive fence group has put up 420m of elephant-beehive fences. We have six rabbits for a new experiment in homegrown protein sources, and two farmers have guineafowl flocks. Our airstrip is now open. Our website is getting a facelift soon. We are so grateful to you for your support; you keep us out here.
---
---
June 18- African People & Wildlife Fund
This week some of our staff went spoor tracking around our camp with our expert Hadza trackers. Close to our Noloholo watering we found a few lion tracks. We think they are of a young male, or a small female.
It's always exciting to find lions close to the boundaries of camp. We hope we have a sighting soon!
---
---
June 18- Walking For Lions
Well good people, the 'Walking For Lions' print raffle fundraiser is coming to a close. It will be drawn end of this week on Sunday the 23rd! Your last chance to be in the draw to win three lion prints personally signed by Sam Clark, African Wildlife Photographer.
Not in the draw… don't worry, there's still time! To support the program and enter the draw, jump from here and donate a minimum of $5.
All donations go directly to Walking For Lions!
How you have helped so far:
In October 2012, WFL did an annual Lion and cheetah survey within the Mara Triangle. After this we managed to use funds and sponsor a trip where some of the elders and youth leaders of the Mara Community witnessed the first ever Masai Olympics within the Amboseli Region. The idea was to open the eyes of these warriors and see if they might be willing to change their ways.
Then we realized that there is still WAY too much to be done.
An Australian Trust was created to help support any projects, UK Coordinators were established, and by now, a German Coordinator has been appointed with a Media Liaison (within South Africa) to spread the word about lions regionally, and globally.
Funds were spent on supporting some local street children with food, assisting Cheetah Conservation Botswana with equipment to finish building their Cheetah Holding Facility,  and paying for some of the t-shirts and hats that were given to local people and those that joined our Walk for Lions.
Now we are planning this large task of assessing how many Lions there are within Botswana with the Department of Wildlife and National Parks.  We hope that we will find numbers that are still compatible with their surroundings and for the future of our generation to be enjoyed.
So in short, give yourself a big pat on the back!
---
---
June 18- Ruaha Carnivore Project
 We are very pleased to say that we have now surpassed the 10,000 DVD night participant mark. DVDs about wildlife conservation are shown at village centres, schools and subvillages throughout the area and attract large crowds, providing RCP staff an excellent opportunity to talk about wildlife, carnivores, and RCP's programmes.
To date, 2,418 students and 8,118 other villagers (2,405 men, 1,954 women and 3,759 children) have attended DVD shows. Local people hugely enjoy the nature programmes, despite being narrated in English, and we are very keen to work with our partners to eventually develop Swahili versions – so if you could help with that, please let us know!
---
---
June 18- Niassa Carnivore Project and Ewaso Lions
Niassa update: First picture from Ewaso Lion visit… thanks Shivani. The team has visited the National Park, an ecotourism lodge and are now going to spend 2 days with the Lion Warriors. Amazing!
Ewaso update: Ewaso Lions is very happy to host Keith Begg and his team from the Niassa Lion Project in Mozambique (Conservation Partners with the Wildlife Conservation Network). The team arrived on Monday and had a tour of Samburu Reserve – they saw ostriches, giraffes, oryx and many other animals for the first time…and even managed to see one of Samburu's lions -Loirish – sleeping under a tree. Today they are off to spend 2 days walking with the warriors through Westgate Conservancy. Welcome Keith, Euzebio, Francisco, Pedro, Meu and Joachim!
---
---
June 17- African People & Wildlife Fund
The children who participate in our Wildlife Clubs are starting their examination this week for admittance to the Noloholo Environmental Summer Camps in July. We visited a few of the schools in Kimotorok, Loibor Siret, and Narakauo last week and were pleased to see that the children were working hard on projects and activities focused around helping the environment in their respective communities. We'll have plenty of fun and educational activities arranged for the camp, like a mock spoor tracking with some of our expert trackers. We are so excited to teach these children as much as we can about the environment and how they can become wildlife warriors!
---
---
June 14- Walking For Lions (New Project to Follow!)
Our mission is to save the last remaining wild lions of Africa. This can only be achieved with the help and support of people who want to start taking action for lions, which is our aim.  We will make a difference in the future, and we can be successful if we do this together!
We are a fairly new organization that is growing fast. We started with our 'Walking for Lions'  event to raise awareness, in which we journey across Africa by foot in the name of lions, spreading knowledge and information about their current status and need for positive wildlife-human conflict resolutions. In addition to our walk, we have many different events and projects starting all around Africa to raise awareness and money for lions and their future generations. So, even if you cannot be involved in the walk, there are still countless ways for you to help.
We are excited to be able to share some of our news updates with you as we grow and evolve our program to help wild lions. Please enjoy seeing a little of what we do, and stay tuned! Visit our website, facebook page, or store – where each item you buy gives $8 to our lion projects!
---
---
June 14- Niassa Carnivore Project
Last night, whole family went out to immobilise and change collar on Fatima and her son Fabio. Fatima was born in 2006 and is now 6.5 years old. Fabio is 29 months old. Fatima had two cubs but one died from infanticide when new males entered the area and took over, when territorial male was snared. Fabio survived. We immobilized Fabio to take a blood sample and check his teeth but decided not to radio collar him as it looks like he still has a lot of growing to do and we don't want the collar to get too tight. This was Hortensio's first lion capture. Ella and Finn came too, and for the first time Finn was old enough to really get involved (4) and ask a million questions. Great job everyone. We monitor the lions in the intensive study area to assess causes of mortality, how many cubs are surviving and movement around villages. This is important to assess whether our programs are being successful and because we don't see lions opportunistically this is the only way to keep track of them. We have been monitoring these lions since 2005. Well done team!
---
---
June 14- Ewaso Lions
We are thrilled to announce that the Wildlife Conservation Network  (WCN) has selected us as their newest Conservation Partner! WCN protects endangered species and preserves their natural habitats by supporting entrepreneurial conservationists around the world. Ewaso Lions will be a featured presenter at WCN's Wildlife Conservation Expo in San Francisco every October. We are very honoured to receive WCN's support and to be part of this amazing group of conservationists.
---
---
June 10- Ruaha Carnivore Project
Lion poisoning incident
This week we heard reports of lion carcasses close to a village, and went to investigate. Upon arrival, we found the bodies of two lions that were poisoned. There has been a spate of lion attacks on livestock in the bush over the past few weeks in that area, which is very challenging as it is hard to protect livestock efficiently in quite dense bush. We had heard reports of a female in the area with cubs, so we were hoping that she was not one of the lions that was killed. However, we found that both bodies were quite decomposed, so it was only possible to age and sex one of them – a young male, of probably around 2 years old. We found that a lot of the body parts had been removed from both lions, particularly the paws, teeth, tail and skin. This is particularly worrying as we have always been concerned about the removal of lion parts for sale, and this is the first time we have had any suggestion that it might be happening – usually, the carcasses are almost intact, with one paw removed at most. Another explanation is that people are using the parts for local use (many lion parts are thought to give people strength or protection), but it is hard to find out as people are usually unwilling to talk about illegal behavior.
We think that this killing happened after several cattle were killed around the nearby village – and although many people find this response incomprehensible, the majority of us would not want to have animals around that destroy our livelihoods, so we shouldn't attack the villagers concerned before understanding how difficult the situation is for them as well. We are developing a trial to see if placing large guarding dogs might help reduce such attacks in the bush, but it is definitely one of the most challenging things we have to deal with. The one good thing is that we found no evidence of other species (jackals, vultures etc) having been killed after scavenging from the poisoned meat or the lion carcasses, and we burned the remaining bodies just in case there were any traces of poison left.
Happily, we have seen a marked decline in this kind of event over the past couple of years, especially in areas where we are doing very intensive conflict mitigation work, such as predator-proofing livestock enclosures and employing Lion Guardians. We hope that we will eventually be able to raise enough funds so that we can extend and maintain that intensive work across a wide area, in order to prevent these incidents and improve the situation for both lions and local people.
---
---
June 07- Ewaso Lions
We had a great sighting of Nanai the lioness yesterday in Samburu National Reserve as a huge family of elephants walked passed us. Nanai, who is in the distance, was very alert as she approached the elephants!
---
---
June 07- Niassa Lions
A HUGE thank you to Rebecca Patton and JG Collomb from Wildlife Conservation Network for flying all the way from San Francisco to our project in Niassa to get a better idea of what we do and how they can provide support as our partners. We so appreciate the time they spent with us, the good ideas and ongoing support.
Below is a picture of JG and Rebecca on top of Mantindano with Lipumbulu in the background. We had our meetings in beautiful places….."a master of the art of life draws no distinction between work and play, he always seems to be doing both" -Unknown.
---
---
June 05- Ewaso Lions
Check out our Lion Watch website! 
Tourists who visit Samburu and Buffalo Springs National Reserves – and nearby areas – can upload their lion photos to a brand new website: www.LionWatch.org. The site was developed for us by the Emerging Wildlife Conservation Leaders.
Lion Watch utilizes "citizen science" to enhance lion conservation by leveraging the knowledge and presence of guides
and their tourists. Select safari guides are trained to collect data on lions while they are on game drives with clients. Meanwhile, tourists learn about lion conservation and can participate directly in lion research by uploading photos of lions into an online database. This increases the scale of lion monitoring and research by Ewaso Lions in our study area.
We recently trained the first 13 Lion Watch Guides in all aspects of lion identification, monitoring, ecology, and GPS. We provided them with lion ID cards, aging books, and smart phones equipped with special apps for recording lion data. These smart phones allow Guides to easily collect lion IDs and locations.
"This initiative by Ewaso Lions is a fantastic one," said Tom Lesarge, CEO of the Kenya Professional Safari Guides Association. "It will not only help in monitoring the lion populations in Samburu, but trigger a passion and genuine concern for lions in all people that will engage in the programme."
We are really excited about this new collaboration between conservation and tourism. If you have any questions about the program or how you can support it, more information is available at www.ewasolions.org and www.lionwatch.org
---
---
June 03- Ruaha Carnivore Project
Our cameras 'trap' photos of the wildlife that pass by in close proximity, and over the last few months we've had some pretty amazing photos. Typically, most photos are of the wild animals in the area, but from time to time we'll get some curious people as well! Click the photo below to visit our camera trap gallery and see all of the amazing creatures we have candidly witnessed!
---
---
June 03- Living With Lions, Lion Guardians
Living With Lions and Lion Guardians work with traditional African herding peoples to conserve lions and other large carnivores which are severely threatened because people kill them to protect livestock. We run community conservation programs in remote areas to remind rural Africans of the value of large predators, and the traditional methods they developed centuries ago to protect livestock from lions. A one hour film in Swahili and Masai is the centerpiece of this effort. Check out this clip, which is a 12 minute English summary of the film.
---
---
June 01- Niassa Lion Project, Ewaso Lions
Niassa Update: What an amazing week back with old friends and new ones. Mbumba, Agostinho and I have just finished HWCC's Advanced training in Conservation Conflict Transformation in Arusha, Tanzania building on what we learned last year. We worked with conservation colleagues from Tanzania, Kenya, Uganda, Zimbabwe, Zambia and Mozambique to get to grips with conflicts in our own projects and learned new ways to anaylse and transform them. Get the human-human interactions right and the animals will look after themselves. Thank you Francine Madden for your amazing way of teaching us new skills, and to Houston Zoo and WCN for getting all three of there. This was so useful and will be put to use immediately. I cannot recommend this training enough. All conservationists should do this coursee, especially those working with communities. I can see so many ways it has already changed the way we work and we can see the results.
Ewaso Lions Update: We've just come to the end of a week of Advanced Training in Conservation Conflict Transformation in Arusha, Tanzania, facilitated by the Human-Wildlife Conflict Collaboration. It brought together conservationists from all over Africa. It was great to be together with colleagues from Grevy's Zebra Trust, Niassa Lion Project, African Wildlife Foundation, Painted Dog Conservation, Ugandan Wildlife Authority and many more. Thank you to the Wildlife Conservation Network and Denver Zoo for enabling me to participate – I'm excited to head back home to practice everything I've learned.
---
---
May 28- Ruaha Carnivore Project
Amy just visited Longney Primary School in the UK, which is one of the Kids 4 Cats sister schools, twinning with Makifu Primary School in Tanzania. It was great to meet all the staff and students at Longney, especially the Eco Club - who made a lovely handmade photo book for their twin school in Tanzania, as well as one for their Simba Scholar, Nicko. They are both wonderful and we will be excited to hand them out in Tanzania next week! Thanks very much to Longney Primary School from all of us at RCP!
---
---
May 28- Niassa Lion Project
On Friday evening we tested out the new fiber glass "Okavango Makoro's" (brought up from Maun earlier this month) on the Lugenda river for the first time. Our hope is that these "traditional canoe" designs will in the near future reduce the mounting pressure on Niassa's hardwood trees and involve local fishermen more in eco-tourism activities. In this image Rebecca & JG are watching an elephant bull as it begins to cross the river in front of us.
---
---
May 26- Niassa Lion Project
Rebuilding an old LR onto a new chassis in the field – too much lion tracking cracked the old chassis in too many places – so we had an impromptu skills training course in mechanics for Nakati, Euzebio and Francisco. Thank you, Mazive, for coming up from Maputo to help us get our fleet of old LR on the road again and helping us grow the skills in our team.
---
---
May 22- Lion Guardians
The annual Lion Guardian Games 2013 edition will be held from the 12th-14th June 2013 at the pristine Selenkay Conservancy. The Lion Guardians will be accommodated in our newly built Central Training Camp which borders the famous Amboseli National Park. We are excited because these games will be a first for many of our new Lion Guardians – and especially significant because the Lion Guardians Ruaha Team will be attending – adding a whole new level of competition of two different cultures as Barbaig compete with Maasai.
The Lion Guardians Games is an occasion for the Guardians to share their experiences in the field, make new friends and develop a network of information sharing in the course of monitoring lions that criss-cross their respective zones. In the past three years, these games have been very successful due to the fact that the competitive spirit of the traditional Maasai warrior is at the heart of each event. Upon hearing that the games are going to be held soon, the Lion Guardians are all eager, excited and raring to go. Preparations are underway for the 100 meter sprint, stick and spear throwing and traditional dancing. The games will be graced by the presence of the entire Wildlife Guardians Board of Directors as well. The anticipation, the excitement and the spirit to compete against each other makes the games a competition worth waiting for with bated breadth.
We are once again grateful to Eco-Sys Action for sponsoring the games for the third year in a row as well as for providing these customized Lion Guardians footballs (soccerballs)!
---
---
May 20- Ruaha Carnivore Project
Yesterday we took a group of young Maasai men and our Mapogoro Conflict Officer, Suleiman (in RCP shirt) into Ruaha National Park. It was a great trip–we saw 15 lions in five different sightings! To date we've taken more than 300 villagers to visit the Park and see carnivores in non-threatening situations.
---
---
May 20- Ewaso Lions
We are excited to announce our new Lion Watch program! Here we aim to connect tourism, research and conservation by working with safari guides and tourists to scale up our work in northern Kenya. Read our article about how we plan to unite tourism and conservation.
---
---
May 20- Niassa Lion Project
Community meeting on Monday in Mbamba Village to start off the dry season. Great participation by everyone and a really positive start. Chiefs are starting to take responsibility for conservation and lead discussion onhow conservation community fund would be spent and people employed. Feeling positive!
---
---
Update! We've surpassed our $14,000 goal!
May 20- Niassa Lion Project
Update:
Wow… we made it!
Our special thanks to you all for the tremendous support. We have just finished rebuilding our camp and reaching our campaign goal is the perfect way to start the dry season back in Niassa. We hope to have internet access soon under our sausage tree and will update you all from the banks of the Lugenda river.
Many thanks again for helping us complete this documentary.
Kind regards,
Keith
Original Post: We need your help completing our documentary! Our founders, Ben and Colleen Begg,  have created a film about our journey to gain a deeper understanding of the community in which we live and work, so that we may become more effective conservationists. After developing trust with our local people, we were permitted to film a traditional and spiritual ceremony, which would be fantastic to share with the world.
To date we have entirely self-funded the production of this film. We now have a rough cut but we don't have the resources to complete the final edits, music, narration and mix. We need your help to bring this 50 minute documentary film to life. For more information, or to commit to a donation, head to our contribution page.
---
---
May 15-Ewaso Lions
Is the future bright for Kenya's lions? The East African newspaper talked to Ewaso Lions to find out:
---
---
May 14- African People and Wildlife Fund
Success!
In 2012, we exceeded our goal of 200 Living Walls on the Maasai Steppe. We now have 220 Living Walls in place in 6 villages, protecting more than 50,000 head of livestock, directly impacting approximately 4000 community members and keeping lions safe on a nightly basis. No lions have been killed at homesteads with Living Walls since the start of this program in 2008.
In addition to overseeing our Living Wall installations, Elvis Kisimir (at right in green) also manages a growing team of big cat conflict officers. These local community members monitor conflicts with the big cats across the Maasai Steppe, responding to calls for help when livestock are lost at pasture and in danger of being consumed by a large carnivore. By preventing conflicts, we are saving big cats and helping to protect local livelihoods.
---
---
May 10- Niassa Lion Project
Our second experimental elephant-beehive fence in Mbamba village is doing well – 240m, 12 hives (6 active and 6 dummy). Four beehives were colonized in March. Initial results are encouraging – there are 6 neighboring fields being monitored, only one with a beehive fence. There have been 32 incidents with elephants and only one has been in the beehive fence field when the rope was down. Too early to get too excited but hard not to hope! Well done Mbumba.
---
---
May 8- Living With Lions
Living with Lions is currently being highlighted as one of the World Association of Zoos and Aquarium Conservation (WAZA) Field Conservation Projects. WAZA is the unifying organization for the world zoo and aquarium community whose members are leading zoos, aquariums, associations and corporate partners from around the world. Visit the WAZA Living with Lions project page .
---
---
May 6- Ruaha Carnivore Project
RCP Helps Village Cattle Dip Reopen
 On Saturday, April 20, the Ruaha Carnivore Project provided at cost the insecticide needed to reopen the cattle and goat dip in the village of Makifu, just outside of Ruaha National Park. The cattle dip has not operated in about three years because of the lack of insecticide.
 Tick-borne diseases are a major cause of cattle illness and fatality in sub-Saharan Africa. And because the vast majority—60 percent—of livestock losses in our area are due to illness and injury, not depredation, preventing those illnesses will make pastoralists better able to absorb the much-less-frequent loss to depredation and thus more tolerant of carnivores.
The insecticide provided by RCP for the Makifu cattle dip will last for several weeks and will treat thousands of cattle, goats and sheep.
---
---
May 4- Ewaso Lions
On Saturday, May 4th, Ewaso Lions is held our 4th annual Running for Lions half marathon in Samburu. We were so excited to see the community come together under the banner of lion conservation. Thank you for your help in raising $500 for the event! It was small bit of money for a huge positive community event. This year there were two races: a 21km half marathon for elders and warriors, and a 7km race for women (the community requested to separate races for men and women). The races take place in the stunning Westgate Community Conservancy just west of Samburu National Reserve, here in northern Kenya. We sponsored the race this year with Sasaab Lodge, Westgate Conservancy, and Carter Safaris. As usual, the prizes consisted of goats! Life in Samburu is hard — security issues, human-wildlife conflict, drought — so Running for Lions offers people a day to come together, have fun, and raise awareness about the positive benefits of lions and wildlife. Thank you for making this year's race the best yet through your donations. Visit our facebook page to see more of the photos!
---
---
May 1- Lion Guardians and Ruaha Carnivore Project
Dr. Steph Dolrenry, Director of Carnivore Biology and Eric Ole Kesoi the Community Liaison Officer for LG Kenya, came down to Ruaha last month to conduct some further training with the LGs here. One part of that training was setting up spoor routes. "Spoor?" Spoor is an English (U.K.) word for animal tracks. Over a period of two weeks, together with the LGs, we walked over 200 kilometers through the LG zones setting up spoor counting routes. For each zone, of which there are four, a 10-12 km long transect was established. The LGs will walk these transects once a week and collect data on the presence of lions, the various carnivores that compete with lions (leopard, cheetah, wild dog, and hyena), as well as available lion prey (wild pigs, impala, kudu, giraffe and eland) found in their areas by recording the tracks they find. Visit the Lion Guardians Blog to learn more about our Spoor adventures!
---
---
April 27- Niassa Lion Project
A wonderful blog showing how children in Houston ,Texas enjoy the same activities as children in one of the most villages in Mozambique. Well done Houston Zoo and Velasquez Elementary school. We are different but still the same. Visit the Wild Conservation Blog at the Houston Zoo!
---
---
April 22- Living With Lions Mara Predator Project
There's a lot of information on this Lion SSP page about all the projects going on (including ours!), but what about some technical know-how about lions themselves? Take a jump over to our Lion Database to identify lions by their whisker spot patterns, manes, and noses, among other features. Identifying lions while in the field and by looking at camera trap photographs helps us to keep track of our lion populations and be aware of their locations. Having this data is step one of establishing effective conservation projects that rely on the awareness of population density and movements in conjunction with awareness of local peoples and their immediate carnivore concerns.
---
---
Update!
April 17-20- Ewaso Lions Kenyan Kids on Safari Camp
Here is a selection of photos of our Kenyan Kids on Safari Camp held in Westgate Conservancy, Samburu. It was a tremendous success and great fun for the children and organizers of the event. Thank you Sasaab Lodge and Westgate Conservancy residents for their support towards this exciting program that changed the lives of 24 young children. Visit our Facebook album to see all of the photos!
---
---
April 19- Ruaha Carnivore Project
Here at RCP we are celebrating the completion of our 50th predator-proof boma (livestock enclosure)! This boma was a first for us: our first boma in the village of Isele, and the first boma built as a result of cheetah depredation. The owner recently lost NINE goats in two separate cheetah attacks in his boma made of brush. Our predator-proof bomas are 100% effective at preventing depredation, and they are a big reason why negative attitudes about carnivores in this area are changing.
---
---
April 15- Niassa Lion Project
Mbamba boy guarding land in Machamba, Mozambique. Everyone spends a lot of time this season protecting their crops from baboons, elephants, warthogs and bushpigs.
---
---
April 11- Ewaso Lions – We've installed more Lion Lights!
Sometimes solutions to human-lion conflict can be found in unlikely places. You may have heard of Richard Turere: the 13 year-old Kenyan boy who invented an ingenious system for safely keeping lions from attacking livestock. Knowing that lions were scared of people carrying torches (flashlights) at night, he rigged a series of automated flashing LED light bulbs around his livestock pen. The blinking lights trick lions and other predators into thinking a herdsman is present, so they don't attack livestock. These "Lion Lights" have been fine-tuned and scaled up, and are being used in various parts of Kenya. Ewaso Lions currently uses five Lion Lights in two different areas and just added another in Kalama Conservancy, and so far they have been 100% successful in keeping livestock safe from lions. By preventing lions from attacking livestock in the first place, this eliminates the incentive for people to kill lions in retaliation. Learn more about our Lion Lights, and check out more information on Richard Turere from CNN and from his TED talk video.
---
---
Update!
April 9- Ruaha Carnivore Project Director Spoke at The Houston Zoo
Our director, Amy Dickman, hung out with The Houston Zoo this week, speaking with both the public and the zoo staff about her adventures in the field. Amy told some fascinating tales from experiences with both the wildlife and the local peoples, elucidating that the core components of conservation involve a multidimensional approach that keeps in mind the effect of wildlife decisions on the surrounding people. We heard about the local Barobaig tribe being intensely private, so much so that there are only a small few academic scribblings on their culture from the last 30 years. After trying for 18 months to establish a productive communication with them, it was the solar panels at Amy's camp that brought in visitors…who wanted to charge their cell phones! By establishing a relationship with this tribe, Amy was able to gather accurate information about lion killings in the area and learn that the Barobaig culture has social benefits (like cattle, status, and women) from a successful lion hunt. These cultural benefits are taken into consideration if conservation projects are to make positive, longstanding efforts. Amy's work with the Barobaig tribe has seen tremendous results in only 5 years. Working with the people to find incentives that work on multiple levels benefits both people and wildlife for long-term planning. Spending time with local men who, in the past, hunted lions, and giving them social incentives (status, monetary benefits, education) to protect the wild cats has helped both lion populations and local peoples.
Amy also deals hands on with the lions in the area, collaring as many as she can, and at $5000 a pop, these collars don't come cheap: they have GPS tracking and are built for rugged action. Collar data in conjunction with the newly active field cameras (which you can sponsor!) allows Amy to make unexplored areas more visible to the academic and local communities, garnering more information about behavior, habitats, and various wildlife populations. Amy and her team have a huge set of responsibilities; if you'd like to support us, you can donate to us through The Houston Zoo or sponsor one of our field cameras. Find more information on events like this at the Call of the Wild Speaker Series web page, or take a look at The Houston Zoo's Wild Conservation Blog. Want to know a bit more about Amy's encounters? Check out the video below where she explains her first night in Ruaha…with an adult male lion as an unexpected tent partner!
---
---
April 17-20- Ewaso Lions Kenyan Kids on Safari Camp
Started in 2009, the Kenyan Kids on Safari Camp allows children to see wildlife firsthand inside the Samburu National Reserve. Surprisingly, many young people who live adjacent to the reserve have never been inside. We give the kids digital cameras and binoculars so they may take their own photos, which we then print so they can share and remember their experience.
In 2013, we are initiating a new and exciting experience for children in Samburu.  This month, we will hold a Kenyan Kids on Safari Camp in Westgate Community Conservancy. From April 17—20, children will be taken on bird walks, game drives, watch wildlife films and documentaries, and participate in workshops and sporting events. On the final day, four local primary schools will participate in a Wildlife Drama competition. Read more about Kenyan Kids on Safari in our blog.
---
---
April 8- Lion Guardians
Lion Guardians has put up its Annual Report for 2012 for all those interested in detailed program information. They have included necessary basics such as how success is measured, efforts in monitoring lions, and details on scientific data collection, and also added relevant stories from the field, information on human-wildlife conflict in the area, and personal insights into the individual lion guardians and their efforts in the program. Not just full of statistics, this pdf is an informative and positive read!
Here are just a few highlights of the past year:
For the first time in nearly a decade, the lion population on the group ranches of Amboseli is growing! Since 2010, the majority of cubs have survived to sub-adulthood and some of the female cubs born in early 2010 already have cubs of their own. If this trend continues, the lion population will double in just a few years!
We expanded the program to two new areas with high rates of lion killing – the West Kilimanjaro ecosystem of northern Tanzania and the Ruaha ecosystem in southern Tanzania, the latter in partnership with Panthera and the Ruaha Carnivore Project.
David Attenborough visited the Lion Guardians to narrate their story as part of the new BBC Africa series (scroll down to our Febuary 9th update).
---
---
April 6- African People and Wildlife Fund Annual Spring Benefit
APW's 2013 Annual Spring Benefit "Celebrate to Educate Tanzania's Youth" was on April 6, 2013 at the Baltusrol Country Club in Springfield, New Jersey. Visit our Spring Benefit page for RSVP information or to contact us about the event in the future!
Tickets must be reserved in advance. Print out your RSVP card and mail to: African People & Wildlife Fund P.O. Box 624 Bernardsville, NJ 07924
Or, call APW at 908-642-1540. Want us to send an invitation to a friend? Use our easy template! Thank you!
---
---
March 30- Ewaso Lions
With the recent severe lion conflict occurring within the Nakuprat-Gotu Conservancy, Ewaso Lions initiated an exposure tour for residents to visit Westgate Community Conservancy to learn about the conservation activities taking place there, which might be adapted and applied in Nakuprat-Gotu.
Nakuprat-Gotu is located to the east of Samburu National Reserve in northern Kenya. Ewaso Lions organized the exposure tour in February in conjunction with the Kenya Wildlife Service, Nakuprat Conservancy management, Samburu National Reserve and Westgate Community Conservancy. Following discussions within Nakuprat in late January, it was apparent that general conservation awareness among the community was low, and there were concerns over carnivore predation of livestock. Importantly, community members wanted to get involved and become informed. We decided to bring together the residents of this conservancy and take them to Samburu National Reserve and Westgate Conservancy for an exposure tour. For more information on what was discussed, check out Ewaso's article on the tour.
---
---
March 24- Ewaso Lion Project, Kenya
Solomon is the third student that we have sponsored for a 4 year term of schooling. We are excited to support such bright, young minds!
---
---
March 20- Ruaha Carnivore Project, Tanzania
We're very excited to announce the launch of the Ruaha Explorers Club, a camera trap sponsorship program benefiting the Ruaha Carnivore Project. These are the camera traps we use to collect data on large carnivores and other species, often in previously unexplored areas in Ruaha National Park and adjacent land, so you will be exploring the area as we do. Sponsors can name their cameras, and the images they capture are posted on their own Facebook page. Cameras stay in place for approximately 30 days, then are moved to another spot. Our first sponsored camera is the Norman Cam. Norman's sponsor has invited everyone to join her expedition, so check it out. If you're interested in sponsoring a camera, message us on facebook for more information. Safari njema!
---
---
March 18- Ewaso Lion Project, Kenya
We have been busy working in the Ngare Mara region and other areas in Nakuprat-Gotu Conservancy following the rise in conflict with lions since January.We've installed 3 of Tuarere's Lion Lights in the area, held a number of community meetings and last night took our Wildlife Cinema and showed a film (courtesy of Living with Lions) on lions and conflict, and how to improve bomas.  We had more than 130 people from Ngare Mara attend our film showing!
---
---
March 15- Niassa Lion Project
Check out our Conservation Agriculture team! Comprised of volunteer farmers, this group of people is testing ways to increase field productivity using conservation agriculture techniques such as mulching, mixed cropping, no tilling, and better seeds. This is part of our program to increase food security and provide benefits from conservation.
---
---
March 08- Lion Guardians and Ruaha Carnivore Project
We are progressing well with literacy training in the Ruaha Lion Guardians program, a collaboration between Lion Guardians, The Ruaha Carnivore Project, and Panthera. The majority of the Barabaig Community, including our Lion Guardians, have had no formal schooling and cannot read or write in Barabaig (their mother tongue), Swahili (Tanzania's chosen language), or English (the business language of East Africa and much of the world). We are running literacy trainings to help the Guardians understand and legibly fill out their data collection forms and have advanced to weekly sessions at our Lion Guardians' urging. Though literacy seems like a staple in the world we live in, many individuals have not had access to education and our Guardians started lessons with learning to write their own names. The training sessions have been full of both laughter and hard work, progressing from the alphabet to learning to recognize, spell, write, and read words. Our plan is to expand the literacy training to any interested in the surrounding community once we have successfully helped our Lion Guardians.
---
---
February 27 – Ruaha Carnivore Project
The veterinary medicines program has officially launched! Thanks to the  Association of Zoos and Aquariums Conservation Endowment Fund for the grant to purchase vet meds which will help provide high-quality medicines to the Ruaha-area people who have worked with the Ruaha Carnivore Project. We want to be able to thank those pastoralists who have helped us fence their bomas (livestock enclosures) and invested in predator-proofing and this is a fantastic way to show our gratitude. The majority of livestock loss in this area is due to illness and injury rather than wildlife depredation, so this medication will help reduce the loss of animals to disease and allow for continued economic security.
---
---
February 21 – Ruaha Carnivore Project
Here is the final line-up of RCP's Simba Scholars, ready to start their four-year scholarships at Idodi Secondary (the equivalent of high school in the United States). Whereas primary school is free in Tanzania, secondary school is not. The cost of secondary school often is prohibitive, especially for children of pastoralist families, many of whom subsist on less than $2 a day. Each Simba Scholar receives full tuition, exercise books and school equipment for four years, as well as bedding and a mattress as it is a boarding school. This is a huge advantage for these children, some of whom come from very severe poverty – one of the students used to wear all his clothes at once for primary school as his family couldn't afford even a bag for him to keep his clothes in. These scholarships will give the students a chance for a better future: Two want to become nurses, three want to become doctors and another wants to become a teacher. From left to right, the Simba Scholars are Nicko (sponsored by Longney Primary School), Kuwanga (sponsored by the AZA Conservation Endowment Fund), Ginyanya (sponsored by Ro Dickman), Isaya and Herieth (both sponsored by the Handsel Foundation) and Grace (sponsored by Exmouth Community College).
---
---
February 19 – Ewaso Lions Project
Researchers spend countless hours in the field documenting animal behavior in unfamiliar and even dangerous wilderness. So why not hand over animal observation to those who know the landscape best? National Geographic explorer and lion conservationist Shivani Bhalla did just that. As the "eyes and ears of the Bush," Shivani has enlisted the help of Samburu warriors in northern Kenya to help collect data on daily lion and wildlife sightings. Since the program's start in 2010, Warrior Watch has tripled in size is expected to continue growing. Having never been given the chance to attend school, the warriors asked for reading and writing lessons in return for their services. See the video:
---
---
February 18 – Ruaha Carnivore Project, Tanzania
We have picked our first six Simba Scholars! Villagers in this area see few tangible benefits from living so close to Ruaha National Park, because tourists typically fly into the Park and do not leave the Park during their visits. We surveyed locals to find out what benefits they would like to see, and better access to education was one of their priorities. Our Simba Scholarship programme provides pastoralist children with secondary educations at boarding school. Primary schooling in Tanzania is free, but secondary is not, making it difficult for families that exist on less than $2 a day to afford. Our first six Simba Scholars start their secondary schooling next week! For more information on our Simba Scholars, please visit Ruaha Carnivore Project News.
---
---
February 15 – Lion Program Speaker Events in the US
Niassa Lion Projects Dr. Colleen Begg will be part of the Cincinati Zoo's Barrows Conservation Lecture Series on March 27th: "Meeting Face to Face to see Eye to Eye: Promoting Coexistence between Lions and People in Niassa Reserve, Mozambique". Information and tickets are available online at Cincinnati Zoo.  Colleen Beggand her husband, Keith, have worked on researching and conserving carnivores in South Africa, Zimbabwe, Tanzania, and Mozambique.  In 2003 they founded the Niassa Lion Project in the remote wilderness of the Niassa Reserve in Mozambique.  Through film, photography, research, and field conservation they are working to secure the large carnivores in their remote region to conserve one of the Earth's "Last of the Wild" places. Ruaha Carnivore Project's Dr. Amy Dickman will be part of two events - Blank Park Zoo's Conservation Series on March 28th -tickets available at online at Blank Park Zoo and then on April 9th, she joins the Houston Zoo for their Call of the Wild Speaker Series – tickets can be reserved at Houston Zoo's Wildlife Speakers. Dr. Dickman is the Kaplan Senior Research Fellow in Field Conservation at Oxford University, and has over 15 years of experience working on large carnivores in Africa, specializing in big cats. In 2011, she was awarded the Rabinowitz-Kaplan Prize for the Next Generation in Wild Cat Conservation.
---
---
February 9 – Lion Guardians
UPDATE: Episode 6 (and others!) are available for download online on iTunes. Lion Guardians featured in the new BBC Nature series "Africa". We are pleased to share the news that the Lion Guardians program will be featured in an upcoming episode of the BBC series Africa (February 6th in the U.K. and Februrary 9th in the U.S.). Inclusion in any BBC Nature program is a great honor but we are especially proud to be featured in Episode Six, The Future, which highlights several promising and innovative conservation initiatives underway to protect Africa's iconic wildlife and wilderness areas. Filming of the Lion Guardians' approach to conservation took place last October. The BBC film crew spent several days with us and captured some amazing footage. Watch for the re-airing of these episodes in the US on Discovery Channel.
---
---
February 8 – Gorongosa Lion Project
Gorongosa National Park in Mozambique recently unveiled a new website where you can explore the park and related conservation initiatives in the region. Take a look at the Gorongosa Lion Project page  for an overview of the project.
---
---
January – Ewaso Lion Project
In just one week in northern Kenya, one lion has been shot and killed and one nearly killed by men with knives – all as a result of human-wildlife conflict. An adult female was reportedly shot and killed in an area called Nagum, near Buffalo Springs National Reserve in Isiolo District. It appears that she was killed in retaliation after a group of lions killed eight goats inside a small village. A second lion was nearly killed for eating a young cow in Archer's Post town, but we managed to prevent the men from succeeding, and she left the town to return to Samburu National Reserve. Shivani, Jeneria and a member of Reserve staff literally drove between the lion and the approaching men to stop them from killing her. This was Kofafeth, an 11 year-old female from the Ngare Mare Pride in Buffalo Springs National Reserve. This string of conflict incidents illustrates the extremely tense situation currently between local communities and lions in the Ewaso Nyiro ecosystem of northern Kenya. In the past few months, conflict has risen in frequency and severity across the area, largely as a result of the heavy rain season, during which natural prey disperses and predators turn to livestock. Most issues are occurring outside our study area, so we have the additional challenge of working in unfamiliar areas with communities who have not had much sensitization to carnivore conservation. Our team has been pushed to its limits in meeting with local communities to prevent retaliation, and working to help prevent further lion attacks on livestock. We have are working 14-hour days, covering thousands of kilometers, and coordinating response efforts as best we can. One intervention we are trying is a new innovative predator deterrent called Lion Lights, which blink around livestock bomas at night to scare away lions. In Ngare Mara village, adjacent to Buffalo Springs National Reserve, a pride of lions has made numerous attacks, killing or injuring livestock. Fortunately, local leaders reported these incidents before taking action against the lions, and in response we installed three Lion Lights. So far, there have been no attacks on livestock where the Lion Lights are installed. For more, check out Ewaso's article.
---
---
January 21 – Niassa Lion Project
The Niassa Lion Project is finding solutions for local people to live peacefully with wildlife. Elephants can be very destructive to crops and dangerous to local farmers. This builds a resentment and fear of wildlife. The bee fence will redirect the elephants, and reduce the negative interactions between people and wildlife. The Niassa Lion Project's Community liaison  Mbumba and members of the Mbamba village are effectively detouring elephants from the Mbamba village's crops with their beehive fence lines. At least 3 of the 12 initial hives have already been colonized by bees, and possibly more soon. The community reports that 10 elephants ran away from the fence last week. This is part of our program to increase food security and engage communities in conservation activities. The success of this non-lethal control method will help lions and all wildlife in the long run. So exciting!
---
---
Emerging Issues
Paola Bouley, a colleague from the Gorongosa Lions Project in Mozambique, once said: "I honestly believe a place without lions is no place worth living". Enjoy the beauty of this Gorongosa Lions video:
Gorongosa Lions from Gorongosa National Park on Vimeo.
---
---
November 19 – Niassa  Lion Project
Our first three Lion scholarship recipients who will have a full scholarship to go to Mecula Secondary school next year -65km away. The local Mbamba school only goes to Grade 7. Not a single child in the village is in secondary school. These three boys were the best in their class. As long as they pass and do well we will continue to support them. Thank you to a WCN donor who is supporting these three. We will continue to mentor and look after them and see how they do. At the moment they are intimidated but with all our support we hope they will thrive.
---
---
November – Ewaso Lion Project
Annual KWS Carnivore Conference held in Nairobi Ewaso Lions attended and presented at the annual Kenya Wildlife Service (KWS) Carnivore Research and Conservation Conference in Nairobi from July 26th and 27th. It was an excellent opportunity to hear updates from our partners in large carnivore conservation across Kenya, and to inform the group of our latest activities in Samburu. This was our 5th time to present at this annual conference. I provided an update on our conservation research and community programmes between 2011 and 2012. The update included progress such as lion monitoring in Samburu, the completion of a pilot study using camera traps, and new methods that the project has adopted in data collection. I ended my presentation by describing some new projects we are embarking on including Lion Watch, where tour guides from the reserves will use smart phones to get to know the lions of the area and share information with their guests, and Wazee Watch which will complement our successful Warrior Watch programme by focusing on engaging village elders. Jeneria (pictured below) and Ngila gave presentations which were very well received. This was Ngila's first time in Nairobi, his first time to give a presentation – and a presentation to the country's key carnivore specialists! We are immensely proud of both Ngila and Jeneria. One of the KWS Senior Scientists even told the group, "It is great to have morans here giving presentations."